I'm sure you're all very aware of the unfortunate bus accident that has crippled Baroness.  Yesterday John Baizley updated their website with an interesting read about the crash, about continuing the band, even about why anybody does this whole music thing to begin with.  There's also some photos.  Here's an excerpt, find the rest at their site.
On August 15th, just before 11 am, Baroness and our crew were involved in a very bad crash while on tour. The brakes in our bus failed completely, on a notoriously dangerous, incredibly steep (12% grade) hill in Monkton Combe, UK, on our way from a show Bristol to another show in Southampton. Our bus went entirely out of control, and we had no choice other than hitting a perpendicular guardrail going about 50 mph at the bottom of the hill. The guard rail and the 20 or 30 trees we ploughed through snapped like matchsticks as we went fully airborne and fell down more than 30 feet off of a viaduct to the ground below. Half of the band/crew were asleep while we lost our brakes, and a few of us were awake and sitting in the rear lounge. I was up front with our driver, and I bore witness to the entire thing. Once our brakes failed, the bus could do little more than gain momentum and plummet down the hill. There was nothing anyone on the bus could have done during our descent to avoid the crash, and no one, the local residents, the police or any of us can believe we survived the impact.

I have no regrets about touring. I don't blame music or the touring lifestyle for my current physical state, or for the accident itself. It happened the same way all things happen: randomly. If I was a carpenter, and I was injured on the way to the job-site, I wouldn't consider quitting my job. That is truly how I see this situation. Baroness doesn't stop because we got hurt on the way to work. We love what we do much more than that, and we have chosen this path because it offers us an unpredictable adventure. With any adventure that involves travel, and with any real passionate pursuit, one will occasionally come face-to-face with the reality of living on the other side of the yellow line. I didn't choose to be a musician in order to live a risk-free life, safely avoiding bumps and bruises. I didn't choose to play music because it seemed like a simple opportunity to make some quick cash. Nor did I ever make the assumption that things would get easier as we progressed.
Read it all and see the pictures at http://baronessmusic.com/update-from-baroness/
This is perhaps the most shocking headline of 2012. Triple J's The Racket has announced it's new host: Lochlan Watt -- and he actually knows a thing or two about Australian underground music!
Lochlan helps run the awesome underground Queensland label Monolith - home to In Trenches, Ironhide and IDYLLS. He's played in Ironhide, Nuclear Summer, Western Decay and The Surrogate. He has written for Blunt, No Heroes Mag, Death Before Dishonour and Drum Media. IE: this guy knows his shit.
Looks like The Racket will no longer be hosted by an out-of-touch clown longing for the 80's and starving good Australian music of airtime just so you can hear Iron Maiden, Metallica and Megadeth for the millionth fucking time. Sadly, I anticipate the boring people who usually listen to The Racket to whinge and complain about this.
In other news, Scott Kelly (Neurosis) and John Baizley (Baroness) played Sleep's Dopesmoker in it's entirety on The Racket last night. Awesome.
Lochlan helps run the awesome underground Queensland label Monolith - hope to In Trenches, Ironhyde and IDYLLS. He's played in Ironhide, Nuclear Summer, Western Decay and The Surrogate. He has written for Blunt, No Heroes Mag, Death Before Dishonour and Drum Media.
What is to become of Sydney University's Manning Bar? That is the question circling around my head at the moment.
There were rumors a few months ago that Sydney University's Student Union (USU) had voted to ban certain styles of music of events from using Manning Bar - and now it looks like those rumors are true.
An article today in the Sydney Morning Herald confirms as much - that there will be a "ban" on music that is considered "too risky". The example given is Necro; a (very crappy) 'gore rapper' who raps about violence and death.
Why the ban? Because Sydney University wants to re-brand itself as an "Ivy League" institution, and are currently reviewing the music policy to curb "anti-social behaviour and alcohol".
Now let's get back to realism here; with a capacity of around 1,000, the Manning Bar is one of the only reasonable venues left in Sydney for international bands, and possibly the only venue of it's size with very good live sound quality. This is very, very disheartening news. It should be more than apparent that metal, grind, hardcore (and so on) will more than likely be facing the axe.
In the next few months alone the Manning Bar will host Meshuggah, Isis, Baroness, Converge, Genghis Tron and Between the Buried and Me. If we lose this venue, both Australian bands and countless international acts are going to have a very, very hard time playing in Sydney. The only equivalent venues left that come to mind is the UNSW Roundhouse - which as AWFUL live sound.
I can barely recall how many dozens of awesome shows I've been to at Manning Bar. All age shows have already been banned. Very, very sad news. Let's hope nothing comes of it.
Link to SMH article.
Link to Mess + Noise article.
Alright! Today is New Years Eve and I'm at fucking work. How sad is that? In any case it has given me a quick chance to do my Top 6 Albums of 2009. Why my Top 6? Well, because I got to the 6th album I had selected and then grew bored.
Don't get too hung up on ranks and the like. What this list is meant to do is hopefully pique your interest in some music you havent heard before - so you can go check it out.
Overall I wasn't very impressed with the grindcore offerings of 2009. We had new albums from Napalm Death, Magrudergrind, Brutal Truth and Flagitious Idiosyncrasy In The Dilapidation which were all reasonable, but hardly groundbreaking or worth of intense praise. I think I'm at the stage where I really need to hear something different in a band, rather than a rehash of old genre cliches. The Kill's new live album was pretty fucking cool, but really most of those songs were quite old.
I'm definitely struggling to find grindcore that meets any of this criteria (and if you have any suggestions I'd love to hear it!). As for metal - well I'm fairly disillusioned and above all TOTALLY FUCKING BORED of death metal and most extreme genres. They are all too static.
In any case, here are my favourite albums of 2009!
1. Mastodon - Crack the Skye: You read correctly. I have dug Mastodon since Remission; and loved the heavy, sludge-ridden style they demonstrated on their first 3 releases. When Mastodon changed their tune in Blood Mountain, I no longer found the major identifiable elements that had let me previously enjoy the band. The production was comparitively thin, the clean sung vocals seems quite poor and inadequate, and that unabated crushing heaviness that I had come to associate with the band was no where to be found.
Then came Crack the Skye. I can only assume this is the album the guys WISHED they made the first time around. It is a fucking masterpiece of catchy vocal hooks (albiet slightly over-produced and clearly run through many filters), complex King Crimson-esque progressive passages, absolutely blistering guitar leads and wonderfully constructed songs. While Mastodon are definitely a band who people either seem to love or hate (infact my old man recently told me that he thought their album was terrible and was 'as bad as the stadium rock bands you used to listen to when you were 16') I definitely stand in the love camp. This album is a masterpiece, and it's ability to retain memorability and accessability while still being an absolute progressive rape is what it's all about for me.
http://www.myspace.com/mastodon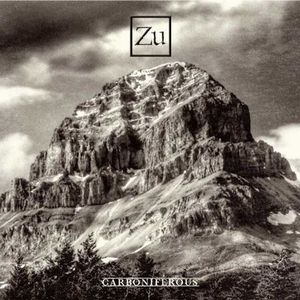 2. Zu - Carboniferous: Apparently Zu have made 14 records since 1999 - so why the fuck hadn't I heard of them before? I only got this album a few weeks back, but it is fucking amazing. This Italian trio (drums, baritone sax and bassist) pulls out massive Meshuggah-styled rotating polyrhythms - but somehow they make it fucking dancable and catchy. How can a trio with no guitar be as heavy as Meshuggah? How can a seemingly endless supply of awkwardly ear-pleasing opposing rhythms and syncopations be so fun? I have absolutely no idea - but hark, it is so.
This is an obscene mix of metal, jazz, punk, noise and more. A huge warm fuzzed-out bass fits perfectly with a prominent live drum kit sound and the heaviness of baritone sax. A mix of The Melvins, Meshuggah, Hella (pfft) and John Zorn. Totally fucking crushing. Get into it.
3. Helm - Keelhaul… Volume 1: Alright so this album was technically released in the last few weeks of 2008, but I don't care. Helm hail from Queensland, Australia and play music stylistically similar to Cult of Luna, Isis, Jakob, Mogwai and all the rest. Listening to this band it is abundantely clear that Helm are not another derivative Cult of Luna band - how could they be? The average age of the band members is far above that of the bands they are so often compared to. By pulling in such a wealth of exprience and knowledge of music, Helm have provided is a refreshingly unique take on a genre that so often falls victim to rehashed Isis-worship.
They take their vocal and guitar melodies far beyond that of the aforementioned, and the fact that they are Australian - and can replicate their intricate melodies and dynamic shifts live just makes things even better.
http://www.myspace.com/ghostatthehelm
4. Brian Campeau - Mostly Winter Sometimes Spring: Brian Campeau is the first Sydney local in this list. Born in Canada, Brian eventually moved to Australia. He is an absolutely incredible singer songwriter, with a voice that I would not hesitate to call beautiful or angelic. His music brings to mind the works of Thom Yorke or Bjork; incredibly emotive and usually vocal-driven. His tunes are marked by a meloncholy which stands in stark contrast to his amazing voice.
Brian is also an incredibly talented studio engineer - and it shows. He has moved far beyond being 'just another acoustic guitarist singer/songwriter' and flourished into an extremely complete musician with an amazing ear for sound textures and soundscapes. Mostly Winter Sometimes Spring acts as a concept album and takes the listener through a range of emotional highs and lows - but it is the completeness of this journey which really struck me. The entire album retains an intense emotional power - you can literally feel songs like 'Denial', 'Anger', 'Throwing Blame', 'Depression', 'Reinventing Myself', 'Acceptance' and 'Thankyou'.
To surmise; here you have a man with a voice so beautiful it should be illegal. His acoustic guitar playing (though sparse on the album) is truly unique and creative, and unlike anything I have ever heard. He has a very strong knack for setting mood through production techiques and soundscapes; not to mention his voice and lyrics. This album also features a wide range of guest musicians to provide double pass, saxaphone, brushes and other various touches. The music is seemingly stripped back, but holds a very distilled emotional power. Needless to say, I am floored.
http://www.myspace.com/briancampeau
5. Propagandhi - Supporting Caste: This was my first official taste of Propagandhi - and now I can really see what all the fuss is about. Furious ideallic punk rock tunes played at a frantic pace, but supported by very strong musicianship and incredibly articulate and intelligent lyrics. Over the years these guys have moulded into an incredible tight-knit unit, and coupled with their obvious intelligence and talent for lyric writing this launches them up into one of the best albums of the year.
http://www.myspace.com/propagandhi
6. Heroin and Your Veins - Nausea: I've been dabbling around with groups who play atmospheric, dark and doomy jazz. Bohren & Der Club of Gore's Black Earth was my first taste of the genre. The down-tempo jazz/doom on that album is far, far more crushing than the majority of "doom metal" I have heard. From there came an obsession with The Necks, and a taste of more atmospheric and cinematic approach from The Kilimanjaro Dark Jazz Ensemble.
I had absolutely no idea what to expect when I listened to this album from Heroin and Your Veins - the band's name definitely sounded like it would be a generic doom/drone band, so I was delighted when what greeted my ears was a cinematic spin on dark atmospheric doom/jazz, painting extremely moody aural portraits that combines the dark jazz of Bohren & Der Club of Gore with the spaghetti-western Morricone-esque touches of later Earth albums.
http://www.myspace.com/heroinandyourveins
Baroness - Blue Record
Converge - Axe To Fall
Fever Ray - Fever Ray
Kylesa - Static Tensions
Om - God Is Good
Shrinebuilder - Shrinebuilder
And for the record the new Mars Volta was fucking TERRIBLE.