Grindhead Records are proud to announce the second East West Death Grind Fest in Sydney on the 20th of November at the Lewisham Hotel!
This years line up boasts some of the best death metal and grindcore bands that Australia has to offer.
Entry is only $20 and tickets will be available on the door.
Also, as an added bonus all Grindhead Records CD's will be available for only $5.00, so bring a bag so you can stock up! Here is a link to the Facebook event.
See you there and stay sick!
http://www.grindheadrecords.com
http://www.myspace.com/grindhead
Friday, 18th December a heaps PV show will be going on in Sydney the same time at the Canberra Slaughterfest. It includes some old fav's and some new faces in Sydney grind scene. Code of Lies are probably headlining, playing their metal music and wearing capes. Michael Crafter will be flying up gold class Jetstar from Adelaide for this spoken word set about how awesome he is, as well as playing posi powerviolent music. Beer corpse will get drunk and play some heavy gorish grindcore. When We're Dead features members of Do Not Resuscitate, and thats all I know about them, scumbag fastcore? Sounds like punk music to me. Convict features members of Rather Be Dead/Tumors, who are actually playing the next night at Slaughterfest. Not sure of the order so turn up 8pm to catch all these epic acts.
http://www.myspace.com/codeoflies
http://www.myspace.com/michaelcrafter
http://www.myspace.com/beercorpse
Wow... it's a pretty dead weekend for gigs in Sydney it would seem.
Down in Melbourne you've got Roadside Burial and Beer Corpse on tour, playing alongside Captain Cleanoff, The Kill, Super Fun Happy Slide and Garbage Guts over two shows. In Canberra you've got the almighty Looking Glass playing with LORD and the VeeBees (what an odd bill...).
In Sydney, the real deal is of course the Ebolie Sydney Harbour Boat Cruise on Saturday. This is the first boat cruise in recent memory; so get off your couch and support it. There will be alcohol, sun and grindcore against the background of Sydney Harbor (the Opera House and all that sentimental rubbish). Booze - of course - will be on sale, as will some light snacks and shit.
These things usually get pretty fucking chaotic. Should be a good'un. Also playing is Nobody Knew They Were Robots, Fallen Dominion and One Time Menace. Tickets can be purchased for $30 (yeah I know it's expensive) before we depart at 11:30am at Pyrmont Wharf (next to the Maritime Museum in Darling Harbour). Here is the Facebook event, nerds.
http://www.myspace.com/ebolie
http://www.myspace.com/nobodyknewtheywererobots
http://www.myspace.com/roadsideburial
http://www.myspace.com/genepoolsharks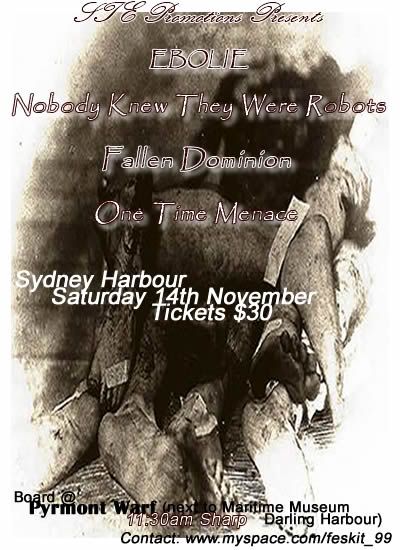 I'm very hungover so I'll make this short and sweet. Friends; family; religion. These are the three things you must slay if you wish to succeed in grimness.
Whatever.
Tonight at the Lansdowne Hotel:
Kill A Celebrity (midnight)
Backyard Mortuary (11pm)
Beer Corpse (10pm)
Corpsickle (9pm)
This is Kill A Celebrity's 2nd last gig. We're going to do a final one probably around the end of the year with our mates and then we can both go on with our lives and pretend this never happened. I'll probably be giving away our new split CD with Krupskaya too. Why not?
Tomorrow night at the Bald Faced Stag: Helm are playing. Helm RULE. Check them out.
Love and doom.

This Saturday the 4th of April sees one of the Sydney crust band Sordid's final shows. Their singer Keef is packing up and leaving town, so try and get down to support em. The show is at Talbot St Studios in St. Peters, which is a pretty cool DIY venue slash rehearsal studio located at 4 Talbot St. It's just off the Princes Highway, and not too far from the station.
Joining them on Saturday are old school booze grinders Beer Corpse, thrash/punk outfit Dead, Wasted, ever-improving Wollongong brutal death/grinders New Blood, beercore grinders Fuck Oath and the grim merchants of doom Summonus (who's new CD fucking kicks arse by the way).
Sordid's farewell show is on May 2nd at the same venue. Shaneo from Bludgeoner, Fuck Oath and Roadside Burial fame will be playing bass for these last handful of shows. Sordid released their debut Sordid Remains on Grindhead Records back in 2006. Check out the Grindhead website for some free MP3 downloads.
In the coming months, Grindhead Records are also expected to release new albums from New Blood and Fuck Oath, so be sure to keep an ear out for all the latest. Maybe subscribe to this blog even. Ey?? EY??!
http://www.myspace.com/beercorpse
http://www.myspace.com/deadwastedsydney
http://www.myspace.com/newblooddm
http://www.myspace.com/sordidremains
http://www.myspace.com/fuckoathoz
http://www.myspace.com/summonusaustralia
http://www.grindheadrecords.com