This Friday at Dirty Shirlows Warehouse is the incredible International Noise Conference. The press release says it's "no laptop / no droning / no money / no bullshit and 15 minute sets". There will also be pedals and effects on sale, CD markets, vegan food, swap meets (if you want to sell or share anything, just bring it along!).
It runs 7pm til 2am and its TOTALLY FUCKING FREE.
Seriously, this is something worth checking out. Featuring the likes of:
Laundry Room Squelchers (USA)
Leslie Keffer (USA)
Graham Moore (USA)
Justice Yeldham
HISS
Gary Butler
Joel Stern (QLD)
Radio Cegeste (NZ)
B.A Lert.
Cured Pink (QLD)
Cock Safari
Oscillateur
The Multifunctional Gut Of Fish
Das Butcher (VIC)
CISTERN CORRUPT
Wizard Bong
6majik9 (Kaogle)
Neckhold (QLD)
MSHING (QLD)
PREHISTORIC FUCKIN' MORON
With Wings
Rizili
DEFEKTRO
Alex White
Tony Irving (QLD)
Pure Evil Trio
Piss Party
Bot Borg (QLD)
Happy Adults
Athrocycle
Jusgo Mosh
Pia Van Gelder
B.I.N.T.
Rev Kriss Hades
Penguins
Forenzics
Null Network
Null Object
Heil Spirits

Facebook event: http://on.fb.me/mU8uZK
Presented by DualpLOVER and Fucking ESP.
Ever wonder what hardcore, grindcore and extreme metal would sound like if played by an electronics obsessed crackhead? Well look no further because Aaron Spectre, the intense and unique Drumcorps is coming (to Sydney and Brisbane)!
His music is like an unholy marriage between Botch, Converge, Genghis Tron and Venetian Snares. Glitches, blast-beats, beat downs, insane drum and bass, screams, guitars - it's all there!
As it was borne of live shows, Drumcorps is made to be performed. Notorious for the intensity of his sets, which are truly adrenaline marathons, no energy is spared in bringing the music to the audience. Utilising multiple controllers and a guitar on stage, the show is a frantic display of hands-on sound manipulation.
Drumcorps has toured the world over, recently performed alongside the likes of Autechre, Squarepusher, Genghis Tron, Luke Vibert and Venetian Snares. Australia's first chance to experience Drumcorps live will be on the 9th of January 2009, at Hermanns Bar USYD.
"like Dillinger Escape Plan with Venetian Snares on drums... fucking amazing" - Aquarius Records
"one of the world's greatest and most versatile producers" - XLR8R Magazine
"this one scared me within an inch of my life..." - Mary Anne Hobbs, BBC Radio
Here's the details for the Sydney show:
Tickets are $20 and the show is on 09/01 at Hermanns Bar.
Drumcorps (US)
Paul Blackout
Centaspike
B.I.N.T.
Highly Dubious
Mad Cow
Sakura
http://www.myspace.com/drumc0rps
Man there are some killer bands at the This Is Not Art Festival. Wish I knew who booked it so I could get on this sexy cross-genre bill.
THIS IS NOT PART OF THE TINA FESTIVAL
Hamilton Station Hotel NEWCASTLE
Over two nights from 9.30pm $5 entry
FRIDAY OCT 3
dRillbit, Passenger of Shit, Xylocaine, Alps, Netas, Cunt Butcher, Trancendental Headache, Inappropriate Tough Guy Behaviour, B.I.N.T, The Peter Styvestant Band, pp. flo
http://www.last.fm/event/746292
SATURDAY OCT 4
Crab Smasher, Crux, Castings, N.U.T.E, McClane, The Thaw, GO GENRE EVERYTHING, RANCID SHIT WANK, GRANNYFIST, Mitchell Brennan, Prehistoric Fuckin' Moron(s), Anal Cum Wolf, Thylacine Death Rattle, Craicwhore
http://www.last.fm/event/742346
There are more than a few good shows going down in Sydney town this weekend. Personally I'll be at the Squat Club one at the Excelsior come Saturday night, followed by some warehouse noise thing with Anklepants I think might be on from midnight at Louie's in Marrickville.
Oh and Testament are playing at The Metro too on Saturday if thats your kinda thing.
RECOMMENDATIONS, BABY:
Maggotsville - 40 Fitzroy st, Marrickville
Saturday 27th Sept 8pm $8
Scum System Kill (crusty punx)
Useless Children (Melbourne, female fronted fast hardcore)
Repo Man (80s style mosh)
Maus (Instrumental grind ex-Massappeal)
Excelsior Hotel - 64 Foveaux St Surry Hills
Saturday 27th Sept $8 Presale $10 on door
Part of Bird's Robe Collective.
Meladora
Aquanaut (VIC)
Squat Club
Six Thinking Hats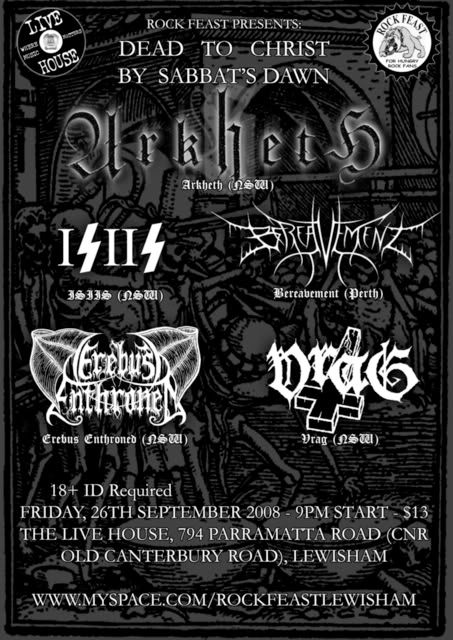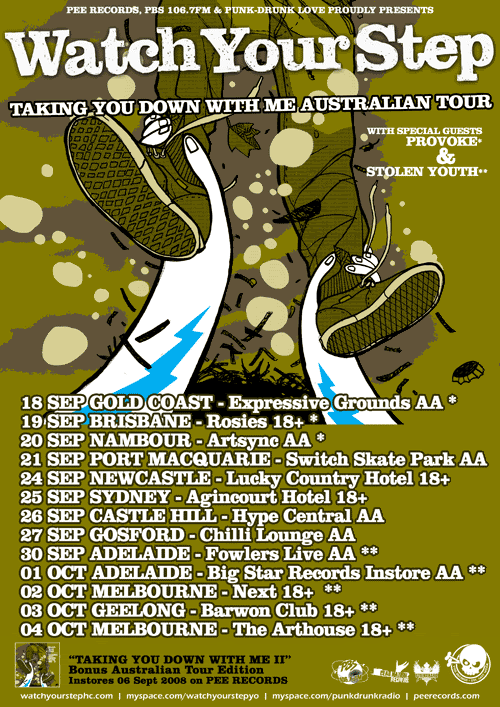 Man you wont wanna miss this. The infamous Channel ? are putting on some kind of crazy multi-floored party with 40 odd DJs (with a dedicated breakcore stage!) and some funk/rock bands like Rumpunch, The Day of the Meerkat and The Fuji Collective.
Apparently it's in a building in the middle of the city on the 14th floor with 360 degree city views. We wont know until crunch time as the venue is not to be posted anywhere. You have to call 0450 426 260 to find out the venue on the night, which is apparently just 5 minutes from the CBD.
This sounds like an unmissable event if you ask me. I'm going to go listen to some Municipal Waste in anticipation.
Scope: http://www.myspace.com/dssfreeparty
Info on stages and bands and DJs playing on the night:

DSS Presents on Ground level:
Double Robin
Sam Sir Robin
Luka
Boot Vs Sook
Insurgent
Sarinwax
Dauntless
Victim (TBC)
Sakura
Reload
15K Wall of Sound System tuned to perfection using SIA Smaart Live, Visuals by JAX, Lighting and décor by Teen Wolf. 1 x Backup Venue
DognDuck/Ohms/Intensified Sound System
Incorporating the Martini Chill Lounge
Presents On Ground Level:
Bruno L T (BRAZIL)
MashyP
Cartel
LUI(baselines fbi)+MC
Lexx
WallyWally
L'il Ed
Flat Max
DognDuck
+ a mash up of Dj's in the Chill Lounge
Bump Presents On Level 1:
Bump Dj's
schwa
RifRaf
satva
suppereverything
F.T.P (Live bands) Presents On Level 1:
10pm MoR(Master of Ribongia)
11pm Rumpunch
12am Day ot the Merrkat
1am Fuji Collective
2am Deep Cycle Vs Bass Fuh Nass Giant
3am Dj's
Bodega Presents On level 2:
Fred Cherry
Miutante
Steele Bonus
K Bleisner
MIDI IN THE CITY [Detroit Tech / House / Live Electronica/ ACID / dub / Visuals .
Presents On level 1:
PRIZE
MATT WOODS
ORBITAL SOUNDS [ LIVE AUDIO VISUAL PERFORMANCE ]
DAVE STUART & HOST ALEX M
OLIVER GURNEY
DANE AUSTIN [LIVE ]
ANDOSOUND [LIVE]
ONNIT & freinds
Visuals by DARKO & BLEep
SCUM ASYLUM (Breakcore) Presents On level 2:
Killjoy
b.i.n.t
abortifacient
skullfuckdisco
skintbag
dalit
stovemaster
eject
You know what kicks arse? Breakcore.
You know how grindcore is essentially the most chaotic, fucked up, fast, neck breaking, mind fucking, shit ruining, violent music in the extreme punk/metal realm? Breakcore is essentially the equivalent in the electronica world - shit so fucking complex, fast and insane that the vast majority of the world is reduced to a screaming, thrashing mess of "TURN THAT FUCKING NOISE OFF!!!".
Anyway: I love it and I think it's insanity has the potential to appeal to fans of some grindcore. So much so that I am thinking about putting on a grindcore vs. breakcore show. Some examples include some of the work of Aphex Twin, Venetian Snares, Squarepusher and probably others.
I haven't been to any local breakcore gigs myself, so there are a few DJs on this show I will be on hand to hear. Furthermore, it's a party - and lets face it, you have nothing better to do. Come down and get mangled with us. Some names playing are: Killjoy, Cat-Grrl, Maladriot, Rainbow Ejaculation, Anal Erection, Unhappy Animals Make Bad Meat, Abortifacient, Eject, Dalit, B.I.N.T.
EDIT: change of venue!