Well, 2011 was yet another year dominated by souless, watered down music in the mainstream music industry. Bland garage/indie and horrid R&B-pop were, once again, the order of the day. Perhaps more disturbingly, some styles previously associated with underground music continued to be watered-down and repackaged into acceptable pop culture products - namely hardcore and metalcore, who have now seemingly completed their transition into music forms completely devoid of any human emotion or feeling. The post-rock scene similarly provided an endless supply of bands that sound exactly the same.
In spite of my general misanthropy towards the wider music scene, there were still some more unique gems to be had if you dug deep enough. What's more, I really felt like this was a great year for the various underground music scenes in Australia. I feel like there are more bands of more diverse styles going the DIY path, putting on great shows and releasing original, soulful music.
What more, Sydney was lucky enough to have Black Wire Records to actually support underground punk, hardcore, crust, powerviolence and grind.
Here's what I dug in 2011.
Top 5 releases of 2011
The Devin Townsend Band - Deconstruction: Brilliant. Possible Devin Townsend's very best.
YOB - Atma: If anything just for Before We Dreamed of Two and Adrift in the Ocean. An incredible doom record.
Bjork - Biophilia: The best Bjork release since Homogenic.
Graveyard - Hisingen Blues: I struggle to think of a better rock album released in the last decade.
La Dispute - Wildlife: An honest and genuine emotional catharsis. Honest and genuine.
Top 5 grind(ish) releases of 2011
The Kill - Shower of Bricks: the perfect distillation of intense grindcore.
The Reverend Jesse Custer - The Reverend Jesse Custer: sludgy, raging metallic grind and hardcore.
Fat Guy Wears Mystic Wolf Shirt - Counter Transference: techy polyrhythmic, sporadic math/grind bliss.
IDYLLS - Amps for God / Plague Hell: furious fucking grinding metallic hardcore.
Wormrot - Noise: blistering and intense.
The 10 albums I couldn't stop playing all year
Emily Haines and the Soft Skeleton - Knives Don't Have Your Back
Roots Manuva - Brand New Second Hand
YOB - Atma
Bohren & Der Club of Gore - Black Earth
Bohren & Der Club of Gore - Sunset Mission
Dax Riggs - Angel in the Dopesmoke (live bootleg)
Neil Young - Dead Man soundtrack
Neurosis - The Eye of Every Storm
Worlds End Girlfriend - Hurtbreak Wonderland
The Cinematic Orchestra - Every Day
The 10 Australian releases you really should have heard
Hydromedusa - Self-titled: Adelaide stoner rock that just oozes bluesy class. (It's FREE! Get it!)
sleepmakeswaves - And So We Destroyed Everything: An interesting post-rock record? Well I never!
Pirate - Left of Mind: Fantastic Sydney instrumental prog.
An Emerald City - The Fourth: Technically Kiwi, but a great, cinematic album.
Tangled Throughts of Leaving - Deaden the Fields: These guys came outta nowhere (Perth)! Incredible progressive, piano-driven music mixed with progressive and post music.
Mother Mars - Fossil Fuel Blues: Perhaps Sydney's greatest stoner/desert rock band.
Arrowhead - Atomsmasher: Or perhaps these guys are?
Serious Beak - Huxwhukw: Okay it's my band, fuck you.
Squat Club - Corvus (remixed, remastered and re-released): Now with even more mind-bending polyrhythmic clarity!
Fat Guy Wears Mystic Wolf Shirt Counter - Transference
My favourite live shows of 2011
Portishead at Sydney Harvest Festival
Eagle Twin at Manning Bar
Gotye at Angel Place City Recital Hall
Kyuss at The Big Top
The Reverend Jesse Custer at Town Hall Hotel
Captain Cleanoff and Death-Cult Jock at Black Wire Records
Ruins, Darth Vegas, Slimey Things (Featherfest 2011) at TONE
Clagg and Agonhymn at The Pony
Space Bong, Looking Glass and Hydromedusa at The Sando
Australian grind hero of the year
Jack of Die Pigeon Die. Just an all around good bloke who never relents in his selfless passion to support Australian grindcore.
You disagree? Oh what a surprise! What did you guys dig this year? Was it a good year? A shit year?
Alright! Today is New Years Eve and I'm at fucking work. How sad is that? In any case it has given me a quick chance to do my Top 6 Albums of 2009. Why my Top 6? Well, because I got to the 6th album I had selected and then grew bored.
Don't get too hung up on ranks and the like. What this list is meant to do is hopefully pique your interest in some music you havent heard before - so you can go check it out.
Overall I wasn't very impressed with the grindcore offerings of 2009. We had new albums from Napalm Death, Magrudergrind, Brutal Truth and Flagitious Idiosyncrasy In The Dilapidation which were all reasonable, but hardly groundbreaking or worth of intense praise. I think I'm at the stage where I really need to hear something different in a band, rather than a rehash of old genre cliches. The Kill's new live album was pretty fucking cool, but really most of those songs were quite old.
I'm definitely struggling to find grindcore that meets any of this criteria (and if you have any suggestions I'd love to hear it!). As for metal - well I'm fairly disillusioned and above all TOTALLY FUCKING BORED of death metal and most extreme genres. They are all too static.
In any case, here are my favourite albums of 2009!
1. Mastodon - Crack the Skye: You read correctly. I have dug Mastodon since Remission; and loved the heavy, sludge-ridden style they demonstrated on their first 3 releases. When Mastodon changed their tune in Blood Mountain, I no longer found the major identifiable elements that had let me previously enjoy the band. The production was comparitively thin, the clean sung vocals seems quite poor and inadequate, and that unabated crushing heaviness that I had come to associate with the band was no where to be found.
Then came Crack the Skye. I can only assume this is the album the guys WISHED they made the first time around. It is a fucking masterpiece of catchy vocal hooks (albiet slightly over-produced and clearly run through many filters), complex King Crimson-esque progressive passages, absolutely blistering guitar leads and wonderfully constructed songs. While Mastodon are definitely a band who people either seem to love or hate (infact my old man recently told me that he thought their album was terrible and was 'as bad as the stadium rock bands you used to listen to when you were 16') I definitely stand in the love camp. This album is a masterpiece, and it's ability to retain memorability and accessability while still being an absolute progressive rape is what it's all about for me.
http://www.myspace.com/mastodon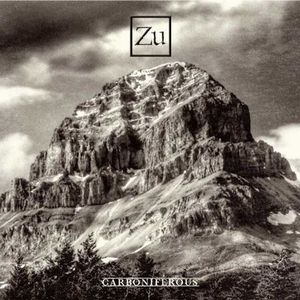 2. Zu - Carboniferous: Apparently Zu have made 14 records since 1999 - so why the fuck hadn't I heard of them before? I only got this album a few weeks back, but it is fucking amazing. This Italian trio (drums, baritone sax and bassist) pulls out massive Meshuggah-styled rotating polyrhythms - but somehow they make it fucking dancable and catchy. How can a trio with no guitar be as heavy as Meshuggah? How can a seemingly endless supply of awkwardly ear-pleasing opposing rhythms and syncopations be so fun? I have absolutely no idea - but hark, it is so.
This is an obscene mix of metal, jazz, punk, noise and more. A huge warm fuzzed-out bass fits perfectly with a prominent live drum kit sound and the heaviness of baritone sax. A mix of The Melvins, Meshuggah, Hella (pfft) and John Zorn. Totally fucking crushing. Get into it.
3. Helm - Keelhaul… Volume 1: Alright so this album was technically released in the last few weeks of 2008, but I don't care. Helm hail from Queensland, Australia and play music stylistically similar to Cult of Luna, Isis, Jakob, Mogwai and all the rest. Listening to this band it is abundantely clear that Helm are not another derivative Cult of Luna band - how could they be? The average age of the band members is far above that of the bands they are so often compared to. By pulling in such a wealth of exprience and knowledge of music, Helm have provided is a refreshingly unique take on a genre that so often falls victim to rehashed Isis-worship.
They take their vocal and guitar melodies far beyond that of the aforementioned, and the fact that they are Australian - and can replicate their intricate melodies and dynamic shifts live just makes things even better.
http://www.myspace.com/ghostatthehelm
4. Brian Campeau - Mostly Winter Sometimes Spring: Brian Campeau is the first Sydney local in this list. Born in Canada, Brian eventually moved to Australia. He is an absolutely incredible singer songwriter, with a voice that I would not hesitate to call beautiful or angelic. His music brings to mind the works of Thom Yorke or Bjork; incredibly emotive and usually vocal-driven. His tunes are marked by a meloncholy which stands in stark contrast to his amazing voice.
Brian is also an incredibly talented studio engineer - and it shows. He has moved far beyond being 'just another acoustic guitarist singer/songwriter' and flourished into an extremely complete musician with an amazing ear for sound textures and soundscapes. Mostly Winter Sometimes Spring acts as a concept album and takes the listener through a range of emotional highs and lows - but it is the completeness of this journey which really struck me. The entire album retains an intense emotional power - you can literally feel songs like 'Denial', 'Anger', 'Throwing Blame', 'Depression', 'Reinventing Myself', 'Acceptance' and 'Thankyou'.
To surmise; here you have a man with a voice so beautiful it should be illegal. His acoustic guitar playing (though sparse on the album) is truly unique and creative, and unlike anything I have ever heard. He has a very strong knack for setting mood through production techiques and soundscapes; not to mention his voice and lyrics. This album also features a wide range of guest musicians to provide double pass, saxaphone, brushes and other various touches. The music is seemingly stripped back, but holds a very distilled emotional power. Needless to say, I am floored.
http://www.myspace.com/briancampeau
5. Propagandhi - Supporting Caste: This was my first official taste of Propagandhi - and now I can really see what all the fuss is about. Furious ideallic punk rock tunes played at a frantic pace, but supported by very strong musicianship and incredibly articulate and intelligent lyrics. Over the years these guys have moulded into an incredible tight-knit unit, and coupled with their obvious intelligence and talent for lyric writing this launches them up into one of the best albums of the year.
http://www.myspace.com/propagandhi
6. Heroin and Your Veins - Nausea: I've been dabbling around with groups who play atmospheric, dark and doomy jazz. Bohren & Der Club of Gore's Black Earth was my first taste of the genre. The down-tempo jazz/doom on that album is far, far more crushing than the majority of "doom metal" I have heard. From there came an obsession with The Necks, and a taste of more atmospheric and cinematic approach from The Kilimanjaro Dark Jazz Ensemble.
I had absolutely no idea what to expect when I listened to this album from Heroin and Your Veins - the band's name definitely sounded like it would be a generic doom/drone band, so I was delighted when what greeted my ears was a cinematic spin on dark atmospheric doom/jazz, painting extremely moody aural portraits that combines the dark jazz of Bohren & Der Club of Gore with the spaghetti-western Morricone-esque touches of later Earth albums.
http://www.myspace.com/heroinandyourveins
Baroness - Blue Record
Converge - Axe To Fall
Fever Ray - Fever Ray
Kylesa - Static Tensions
Om - God Is Good
Shrinebuilder - Shrinebuilder
And for the record the new Mars Volta was fucking TERRIBLE.
Alright, it's another slow new day/week. So here is a list of killer bands you should familiarise yourself with. Be forewarned; most of them are not metal (which shoudn't really bother you if you have a taste in music rather than a taste in one genre).
Brian Campeau: an incredible acoustic singer/songwriter originally from Canadian, but now located in Sydney. Brian has an incredible vocal range matched with a very unorthodox style of guitar playing. His recorded works are influenced by the likes of Thom Yorke and Bjork; balancing soaring emotional vocals with equal parts minimalist acoustic recordings and dreamy atmospheric textures.
http://www.myspace.com/briancampeau
Five Star Prison Cell: a totally unique Australian metal band based heavily around the polyrhythmic complexity of Meshuggah with a healthy helping of groove. These guys are further differentiated by an extremely dynamic vocalist. There is definitely no other band like them; and after seeing these guys play last Friday I have to say they are probably the most insanely tight fuck-off musicians I have seen from a band in a long time.
http://www.myspace.com/fivestarprisoncell
God God Dammit Dammit: an 13 piece funk/party band featuring members of The Rivalry, Space Bong, Robotosaurus and I'm sure plenty of others. Somebody's getting FUNKY.
http://www.myspace.com/godgoddammitdammitband
Helm: I cannot say enough good words about these guys. They have taken the high points of Cult of Luna, Neurosis and Isis and transformed those elements into something really unique. Amazing clean sung harmonies accompany anguished screams and an endless back catalog of killer riffs, build-ups and meditations. Musically these guys fucking know how to structure a song. The more I listen to their debut album, the more I begin to realise that it will not take long for these guys to surpass anything Isis and Cult of Luna have had to offer - and considering my love for both those bands, that is not a small statement to make.
http://www.myspace.com/ghostatthehelm
Hospital the Musical: the meeting of Botch, The Locust and The Dillinger Escape Plan. Insanely talented musicians making technically obscene, raging hardcore. Now that could sound like a recipe for disaster, but this bands flirtation with the experimental and dedication to constantly pushing their music in new directions make these guys Australia's best band in the genre since The Rivalry. Their new full length REDorphan is fucking amazing.
http://www.myspace.com/hospitalthemusical
Looking Glass: these dudes hark back to the days when psychedelic rock ruled the earth with guitar-wielding gods with obscene narcotic-based diets. Without a doubt, this is THE BEST fucking band in Australia when it comes to stoner and psychedelic rock. They take the best elements of Black Sabbath, Led Zeppelin and Jimi Hendrix without ever sounding derivative. Their live presence is absolutely fucking crushing; and once more (as seems to be the theme) their musicianship is impeccable. Guitarist/vocalist Marcus is one of those rare virtuosos on guitar that makes everyone shut the fuck up and stare in disbelief at the maniac hacking at his guitar strings in total aural ecstacy. Fucking check them out.
http://www.myspace.com/lookingglass
Pirate: insane psychedelic and progressive rock. These guys are like The Mars Volta... if The Mars Volta were just 4 dudes playing intensely complex prog shit infused with such incredible groove-hooks and catchy rhythms they didn't need a vocalist to back them up. These dudes are relatively new to the Sydney scene; and fuck me if they havent got everyone's undivided attention.
http://www.myspace.com/piratewastaken
Squid: two drummers, a double-bassist and two saxes busting out insanely catchy beats in stupid time signatures, and then proceeding jam and dance. I don't know what to call this other than a party jazz jam band, but that label hardly does the immensely talented band members any justice.
http://www.myspace.com/squidlives
The Bakery: this is THE danceable funk/jazz band in Australia.
http://www.myspace.com/thebakerysydney
I am a guest on Thematics 2RRR 88.5FM this Saturday night. I get to talk shit and program all the tunes from 11pm til 1am.
Since the show is 'Thematics' I have chosen a melancholy theme which will feature the likes of Gauche, The Rivalry, Bjork, Beth Gibbons, John Lee Hooker, Botch, Earth, Bohren & Der Club of Gore, Bill Withers, Soundgarden, Alice In Chains, Venetian Snares, Weedeater, Brian Campeau, Radiohead, Gotye, Nomeansno and some more music you would do well to hear.
Tune in or download the show after the fact at http://www.thematicsradio.com/ to hear my narcissistic self-important drug-affected ramblings. Also, be super-cool with the most important Facebook event you will ever virtually attend.