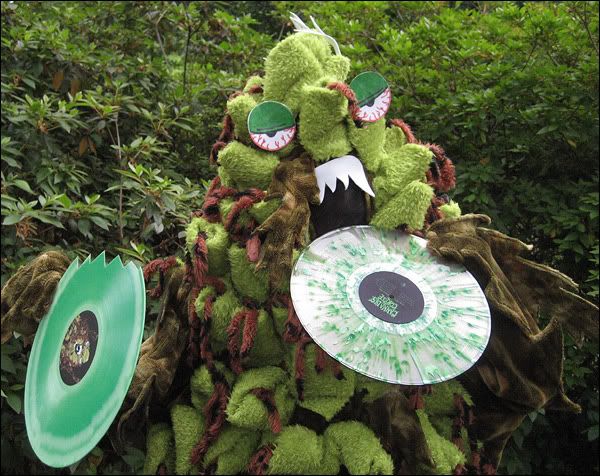 Cannibis Corpse - Robotic Empire has just released the second album from Richmond, VA's Cannabis Corpse entitled "Tube of the Resinated". The LP has some pretty over the top packaging and even has a laser cut weed leaf inserted into the vinyl.
Genghis Tron - Beginning in August and continuing through the rest of 2008, Genghis Tron will be releasing five 12" remix records on five different record labels (Temporary Residence Ltd., Lovepump United, Relapse Records, Anticon Records, and Crucial Blast respectively). Each volume will be limited to 1,000, pressed on colored vinyl. Board Up The House cover artist, Jon Beasley, will also be providing each remix album with alternative artwork.
Each record will feature a select number of Genghis Tron songs taken from Board Up The House, remixed by a variety of artists. Some of the participating artists include Black Moth Super Rainbow, Ulver, Dntel, Telefon Tel Aviv, Steve Moore, Jesu/Justin Broadrick, Danny Lohner, Rob Crow, Subtle, Odd Nosdam, Circle, Tim Hecker, and many more to be announced soon.
Temporary Residence Limited is slated to release volume one of the series in September, with pre-order beginning in July.
Off Minor - The new Off Minor record, "Some Blood" is now available for preorder from Paramnesia Records. The first 100 orders will receive a special packaging edition and original hand screened art by Nishat Akhtar. This album is available on 140 gram colored vinyl (blue or red) and includes a free MP3 download.
Pelican - Aaron Turner (ISIS) has announced in his blog that he will be doing a drawing for a forthcoming Pelican / These Arms Are Snakes Split 7" to be released on Hydra Head.
Coliseum - Auxiliary Records is reissuing Coliseum's "Goddamage" EP as a limited edition 2x7" packaged in a gatefold jacket. This is limited to 1,000 copies on three variations of colored vinyl: 200 on yellow & white marble / yellow & black marble, 300 one yellow / one white, and 500 both yellow. The first 200 preorders come with a free canvas patch, and there are some t-shirt packages available as well. Preorders ship August 12.
Keep up to date with all vinyl news.