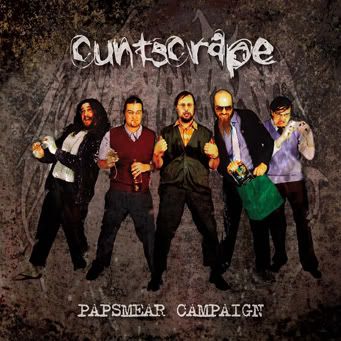 What can be said about WA's debauched porno-grinding perverts Cuntscrape? Their tunes are as groove-laden and catchy as they are perverse and pornographic - taking Heartwork-era Carcass and the dark humour of Macabre while knocking up the rock (and cock) factor to 11.
The result is an outrageously infectious metal group who go above and beyond to rock in the name of porn. With members of Maximum Perversion, Pathogen and The Furor, who could expect any less?
Cuntscape have returned with a brand new full length Papsmear Campaign (GET IT?!?!??!) and promise "23 quim quivering tracks specifically written for that special speculum moment". Considering how ridiculously fun their last two offerings have been (thats their full length Thrush Bang Mania and their Split Roast split CD) I'm very much looking forward to cranking this at inappropriate volumes around the elderly.
Papsmear Campaign is out on Prime Cuts Music on Novemeber 27th, 2009 - which is also the date which launches their national tour (including a run with Grindhead Records' and 666 Entertainments Slaughterfest III in Canberra, Sydney and Newcastle).

Cuntscrape Natioanl Tour Dates
Nov 27th – Amplifer Bar, Perth with Claim The Throne, Gallows For Grace & Nexus
Dec 11th – Monstrothic @ Rosies, Brisbane – with The Dead & Brazen Bull
Dec 12th – The Del Plaza, Southport, Gold Coast with Meat Grinder, Hate Disciple
Dec 13th – Cleveland Memorial Hall with Defamer, People Die, Cross The Lips Of Grace, Aversions Crowned
Dec 17th – Hamilton Station Hotel, Newcastle – SLAUGHTERFEST III
Dec 18th – The Basement, Canberra – SLAUGHTERFEST III
Dec 19th – Sandringham Hotel, Sydney – SLAUGHTERFEST III
http://www.myspace.com/grindecologyst
http://www.myspace.com/primecutsmusic
http://www.myspace.com/slaughterfestaustralia
Captain Cleanoff have long been considered one of Australia's (and dare I say the worlds) best grind bands. These guys manage to mix mosh-inducing punk grooves with sheer blasting brutality, coupled with an inimitable vocals style, an enormous live sound and a sense of humour and fun.
Not only have they released two instant classics within the genre (Self-titled and Symphonies of Slackness), but they are also one of Australia's best live bands (rivaled only by fellow grind heavyweights Agents of Abhorrence, The Kill and Fuck I'm Dead in my opinion).
1 Nov  THE ARTHOUSE MELBOURNE (Fuck I'm Dead, Roskopp, SFHS)
2 Nov  MISSING LINK MELBOURNE (The Kill)
5 Nov  HAMILTON STATION HOTEL NEWCASTLE (Grannyfist, BTBG, Shitfight)
6 Nov  BRANNIGANS TAVERN GOLD COAST
7 Nov  ROSIES LIVE BRISBANE (Daemon Foetal Harvest)
8 Nov  MAGGOTSVILLE SYDNEY (Deathcage, Roadside Burial, Maus, Ebolie)
9 Nov  REPRESSED RECORDS SYDNEY (Kill A Celebrity, Code of Lies)
21 Nov  AMPLIFIER BAR PERTH (The Furor, Cuntscrape, Vespers Descent)
22 Nov  LEEDERVILLE HQ SKATEPARK PERTH (Grotesque, Claim The Throne, Death Fucking Cunt)
27 Nov  THE OLD BAR MELBOURNE (Pathetic Human, DB Call)
28 Nov  THE SALOON BAR LAUNCESTON (3 Victims, DB Call, Nopse Teipsum)
29 Nov  BRISBANE HOTEL (all ages) HOBART
29 Nov  BRISBANE HOTEL (18+) HOBART
So order your copy of Symphonies of Slackness and draw some love hearts, unicorns and rainbows around the date Cleanoff come to your town!
http://www.myspace.com/captaincleanoff
Hardcore Fashion Parade - The Corner Hotel (VIC) 2007
Meathead - The Corner Hotel (VIC) 2007