We've got the final line-up for Victoria's awesome Such Is Life festival. This year the event is taking place on the 27th and 28th March at Truganina, about 19km west of Melbourne CBD (on the Werribee train line).
While the bands kick off at 7PM each night, shit will be going down from 1PM on the Saturday. Food is available and camping is welcomed. There will be pick ups from Laverton train station on both days at prescribed times.
Blah blah blah just check out their site for more of those tedious details. Now onto the good stuff:
Friday the 27th of March
Straightjacket Nation
Walrora (NSW/VIC)
Super Fun Happy Slide
Ex-Spectator
All My Circuits
Rort
Stab Cult (ex-Cut Sick)
Saturday the 28th of March
Pisschrist
Captain Cleanoff (SA/NSW/VIC)
Crux (NSW)
The Once Overs
Shitfight (NSW)
Taipan (NSW)
Scum System Kill (NSW)
Crossed Lines
For more information: http://www.myspace.com/suchislifefest
The Day Everything Became Nothing (you know, the intensely brutal and downtuned rockin' bulldozer gore/grind band featuring members from other legendary Aussie bands like Fuck I'm Dead and Blood Duster) are playing one last show for 2008 which will be released as a live DVD/CD (a la Fuck I'm Dead's latest release).
The guys toured North America in May, so I'm sure this will be a show not to miss.
The show takes place on the 12th of December at the East Burnswick Club in Melbourne. Equally awesome supports include the incredible grind maniacs The Kill, Adelaide party thrash mutants Cut Sick and the crushing grind of Roskopp.
Should be one killer party.
Conquest for Death have announced a tour of Australia during October with Cut Sick!
Conquest for Death is a fast thrashy old school hardcore outfit made up of members of What Happens Next?, Artimus Pyle, All You Can Eat, Love Songs, Charm (Japan), Pisschrist & Straightjacket Nation - so it's a little bit of a punk rock supergroup.
They're playing with The Kill, Dad They Broke Me, The Corruptors (members of Los Diablos, Space Bong and The Guantanamo Bay City Rollers), Straightjacket Nation, 4 Dead, Crux, Deathcage, Maus and Pathetic Human over the course of the tour. They've got a pretty crazy live show, so be sure to cut the sleeves off your old Sick of it All t-shirts, do some dumbell curls and practice your spin kicks before the gig rolls around.
http://www.myspace.com/conquestfordeathsf
All shows with Cut Sick except *
*Friday October 10 - The Arthouse, Melbourne
w. The Kill, Dad They Broke Me, Useless Children, Doubled Over
Saturday 11th October - Worldsend, Adelaide
w.Snake Run, Corrupters (members of Los Diablos, Spacebong & Guantanamo Bay City Rollers)
Sunday 12th October - Fitzroy Bowls Club, Melbourne ALL AGES 7pm start
w. Straightjacket Nation
Tuesday 14th October - Bar 32, Canberra
w. 4 Dead, Slowburn
Wednesday 15th October - Hamilton Station Hotel, Newcastle
w. Shitfight, White Male Dumbinance
Friday 17th October - The Jubilee, Brisbane
w. Insurgents, Dick Nasty & Hatefuck
Saturday 18th October - Maggotsville, Sydney
w. Crux, Deathcage & Maus
Sunday 19th October - Bar Open, Melbourne
w, Pathetic Human, Collapsed Toilet Vietnam & Pissbolt.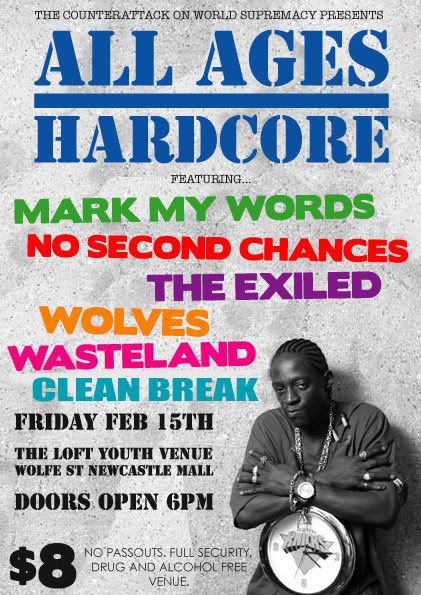 Newcastle Hardcore Gig
Feat. heaps of fags.
Mark My Gay
No Gay Chances
Gaybreak
Wolves (gay)
Gayland
CleanGay
8 Bucks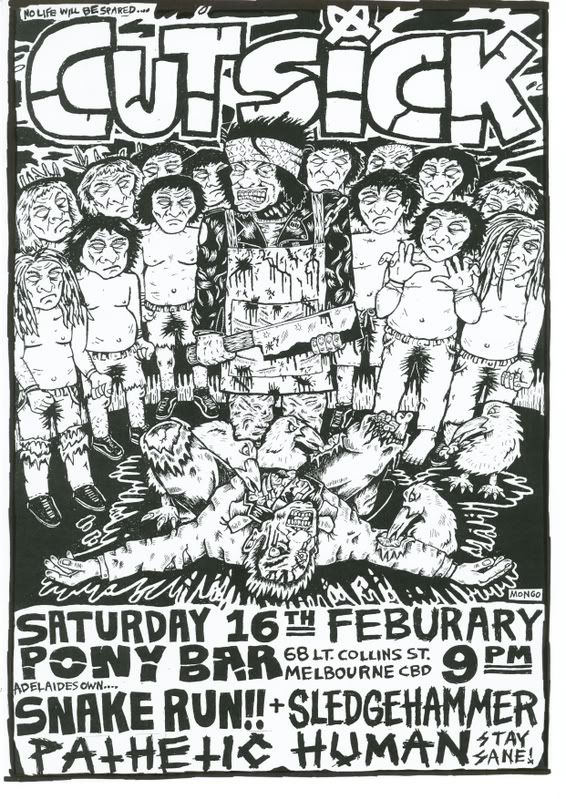 Melbourne Gig feat.
Cut Sick!
SNAKE RUN (S.A)
SLEDGEHAMMER (S.A)
PATHETIC HUMAN
Entry is $8

Central Coast Gig
Mother Eel
Anal Discharge
Red Letter Project
Drivers-side Airbag
Model Citizen
The Snoozefests
Free