This is the best thing to happen ever. Thanks to Rob MacManus and Heathen Skulls, Earth are touring Australia for the first time ever this September.
Earth formed in 1990 and led by guitarist Dylan Carlson. Mostly instrumental, their early work grew out of the Seattle area grunge scene and is recognized as pioneering the genre of drone doom — an experimental offshoot of doom metal, characterised by droning, minimalist, lengthy and repetitive structures.

Their early albums could be seen as a variation of the experimental doom-influenced metal of The Melvins. They now feature a markedly different sound, slow-paced and lengthy featuring strong elements of country music and jazz and the addition of a drummer.

Released earlier this year, "Angels Of Darkness, Demons Of Light II" is ultimately a completely unanticipated direction for Earth, and a very welcome one at that. Well respected by their musical peers, Earth were invited by Portishead to be apart of their curated ATP festival in 2011 and were subsequently asked to perform at ATP 2012, curated by Jeff Mangum (Neutral Milk Hotel).

Earth are heartfelt, haunting and deliver slow moving music that stretches into other worlds. Don't miss your chance to see them in their first Australian tour this September. Special guests to be announced.

TOUR DATES:

Tickets on sale 1 June 2012.
Bunch of Australian doom jerks upload video showcasing some snippets of their new album. The end.
The crushing Melbourne sludge/doom group Encircling Sea are heading up to Sydney and Canberra for a handful of shows next week. I've been wanting to check these guys out for a long while, so I'll definitely be at one of the shows.
June 2nd at Jura Books, Sydney
- Encircling Sea
- Dark Horse
- Dire Rook (VIC)
- Obat Batuk
- At Dark
Doors 7.30pm. $8 entry. All ages.

June 3rd at Black Wire Records, Sydney
- Encircling Sea
- Dining in Tuscany
- Video Nasty
- Rat Bat
Doors 7pm. Entry $10. All ages. BYO.

June 4th at ANU Bar, Canberra
- The Nation Blue
- Bowcaster
- At Dark
- Life and Limb
Doors 8pm. Entry $15.

Facebook event for the tour: http://www.facebook.com/event.php?eid=218719164824285
http://encirclingsea.wordpress.com/
Encircling Sea are touring NSW and playing:


plus Newcastle house show:


and other shows: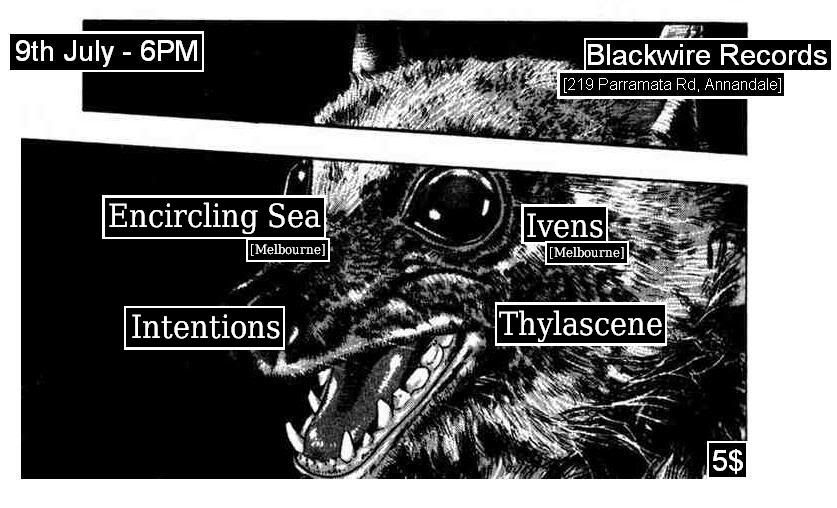 and are releasing this: