The crushing Melbourne sludge/doom group Encircling Sea are heading up to Sydney and Canberra for a handful of shows next week. I've been wanting to check these guys out for a long while, so I'll definitely be at one of the shows.
June 2nd at Jura Books, Sydney
- Encircling Sea
- Dark Horse
- Dire Rook (VIC)
- Obat Batuk
- At Dark
Doors 7.30pm. $8 entry. All ages.

June 3rd at Black Wire Records, Sydney
- Encircling Sea
- Dining in Tuscany
- Video Nasty
- Rat Bat
Doors 7pm. Entry $10. All ages. BYO.

June 4th at ANU Bar, Canberra
- The Nation Blue
- Bowcaster
- At Dark
- Life and Limb
Doors 8pm. Entry $15.

Facebook event for the tour: http://www.facebook.com/event.php?eid=218719164824285
http://encirclingsea.wordpress.com/
I have been an enormous fan of 4 Dead since Ebolie played with them back in 2005. It is therefore with great joy that I am able to pass on news of the upcoming 4 Dead / Robotosaurus East Coast Tour in April.
Wed 13th April - Canberra: Bar 32, with Love Shy and Mammon
Thu 14th April - Sydney: The Townie, Newtown with Totally Unicorn and Fixtures
Fri 15th April - Melbourne: Gasomoter with Agonhymn and In Trenches
Sat 16th April - Melbourne: Catfood Press with Encircling Sea and Useless Children
Sun 17th April - Adelaide: Animal House with Coerce and Dickwolf
Thank Kahn 4 Dead have returned - it has been far, far too long. The guys have a new album coming out *sometime* in 2011. Just get yoself to a show and you will not regret it.
Facebook event.
4 Dead on Facebook.
Robotosaurus on Facebook.
Encircling Sea are touring NSW and playing:


plus Newcastle house show:


and other shows: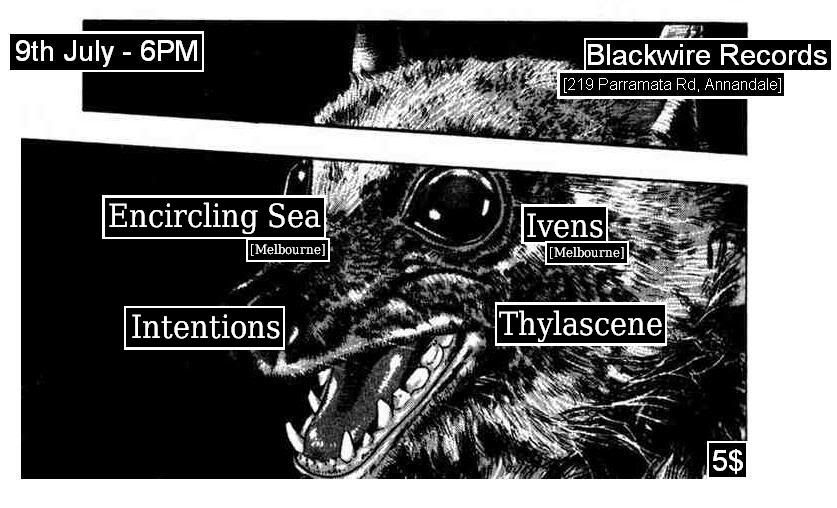 and are releasing this:

Those cool doomed cats of 666 Entertainment have put together one killer festival of stoner, psychedelic, dtone, sludge and doom bands. Dubbed Doomsday, the festival will do the rounds at the Northcote Social Club in Melbourne, The ANU Bar in Canberra and The Bald Faced Stag in Sydney.
This years line-up features some of my favourite Australian bands, including Pod People, Grey Daturas, Clagg, Looking Glass, Space Bong, Summonus and Boonhorse. This definitely looks like a show that you do not want to miss. I know I can't wait for it. Check out the full line-up for each show below. Doooooooooooooooooooooom.
Melbourne Sat 1st August
The Northcote Social Club
$25 - Doors at 4:30pm
Pod People
The Grey Daturas
Clagg
Agonhymn
Heirs
Looking Glass
Summonus
Dread
Space Bong
Boonhorse
Canberra – Sat 8th August
The ANU Bar
$25 - Doors at 4:30pm
Pod People
Looking Glass
The Grey Daturas
Agonhymn
Clagg
Summonus
Dread
Sore
Space Bong
Encircling Sea
Sydney - Sat 15th August
The Bald Faced Stag Hotel
$25 - Doors at 4:30pm
Pod People
Agonhymn
Summonus
Clagg
The Grey Daturas
Looking Glass
Boonhorse
Space Bong
Dread
Sore
http://www.myspace.com/doomsdayfestaustralia
http://www.myspace.com/666entertainment