Heard of Grindcore Karaoke? Well, you should have. Run by vocalist of Agoraphobic Nosebleed J. Randall, this is a digital label that is completely committed to supporting incredible underground music.
So far the label has put out releases by the likes of Wadge, Maruosa, Death Grips, Gigantic Brain and Bong-Ra. Most awesomely, they've all been supporting the Australian scene by re-releasing Death-Cult Jock's West End Blast, Space Bong's The Death of Utopia and most-recently thedowngoing's Untitled. All are essential listening.
The best part? All of the releases are ABSOLUTELY FREE!
Pretty awesome concept, I know. J. Randall did a cool interview over here about his idea behind the label. Check it out! And go find Grindcore Karaoke on Facebook.
Grindhead Records released the incredible split CD between the bizarre Lithuanian acid-soaked cyber-porno-gore aliens Eyetofuk and the brutal perverts of Italy's Putrid Whore around 2 years ago today - and to celebrate, Eyetofuk have arranged a free high quality download of the split CD so you can see what all the fuss is about.
Honestly, this has to be one of my favourite Grindhead Records' releases. Eyetofuk play a very twisted and heavily psychedelic-influenced brand of dance-able, rockin' cyber-porno-gore. Dont dismiss this band as some kind of generic one man cyber-gore project - they go far beyond that, taking influences from bands like Gigantic Brain, LDOH, Rompeprop as well as dance and electronica and acid-culture essentials like Fear and Loathing to create something truly unique within the genre (certainly no easy task).
This is a killer twisted hallucinogen-induced alien nightmare. Permit Eyetofuk to melt your mind with their LCD-soaked creation of porno-electro cyber gore/grind! Enjoy. Oh and if you want to be extra nice, you can actually legitimately purchase this CD for $10 USD (free postage worldwide) here from Grindhead Records. We appreciate your support.
DOWNLOAD Eyetofuk / Putrid Whore - Drufuked and Pornified, mang.
I've already ranted about my love of Gigantic Brain a few times on this blog; namely their fucking incredible sci-fi electro cyber/grind mind-rape The Invasion Discography that came out on Razorback Records too long ago (and needs a fucking reissue!) and their far more atmospheric, measured sci-fi soundtrack-esque recent full length World (review here).
Well they just scored a few more points with me - for offering up a whole heap of music for free download in their MySpace blog.
Now you can download the new 6 track Betelgeuse EP and 25 tracks from something called I Swallow 16 Red Planets. I haven't had a chance to have a listen as of yet; but considering the quality of World I'm definitely looking forward to it. I can't totally predict the direction of these two recordings, which is a very good thing.
Here is a direct link to download the albums from Megaupload.
Obey the brain! Oh, and if you're a fan of Gigantic Brain, be sure to check out Eyetofuk - who are fucking awesome acid-drenched sci-fi cyber-grind fucked up shit on Grindhead Records.
REVIEW of Gigantic Brain - World
http://www.myspace.com/giganticbrain
Welcome to another one of my very rare anticipated grind releases.
Gigantic Brain's debut album The Invasion Discography actually represented my first encounter with the cyber-grind genre back in 2004. I would've been around 17 at the time, and having just discovered some of the more whacky and extreme bands of metal I absolutely loved it. However, for whatever silly reason I never actually purchased the album (despite working for Grindhead Records who actually had it in stock). I have always kicked myself over not picking up that twisted album - however rumour has it that a re-release (from Mainstay Recordings, Deepsend Records or Razorback Records... I forget which) might be in the works.
It has been five long years since we last heard anything from Gigantic Brain. If you listen to music as twisted, bizarre and experimental as Gigantic Brain - or have ever played in a similar project - you might realise that five years is a very long time in music. Music preferences can (and should) shift dramatically over five years, as should the mindset of the creator. I've never understood how in the hell can one band rehash the same album over the course of a long career (Slayer?). Honestly that just sounds like hell to me.
Now returning from the unspeakable horror that is Horhua-Lmory Undecimus XI, Gigantic Brain has summoned forth World; 18 tracks of ambient cyber-grind. Actually even the phrase 'ambient cyber-grind' is quite misleading as this is a fairly significant departure from Gigantic Brain's previous sound. Instead of a relentless overload of mind-fucking FX-drenched hyper-grind, World's focus instead seems to be on dramatic, eerie ambient passages that seem at least in small part a nod to Devin Townsend's ambient work. It's also no coincidence that Explosions In The Sky are listed as one of the few influences on the Gigantic Brain MySpace page.
The fair majority of this album actually consists of sparse synth soundscapes and atmospheric keyboard pieces interspersed with the occasional burst of break-neck otherwordly violence. And I like it. I really fucking like it. The ambient passages are pulled off brilliantly; no song song sounds out of place, drawn out or pointless - a trap which a lot of ambient music falls into.
In Teufel's review over at Teufel's Tomb he said that World is the 'the perfect album to use as a soundtrack for an alien invasion flick' and he couldn't be more right. Each song builds some element of drama or tension and evokes a wide range of emotions; some sound foreboding, tense and dripping with fear, while other songs are filled with calm hope and relief. The whole album fits together perfectly. When there are bursts of hyper-violence, they are both brief and crushingly intense with maximum impact.
This is a large departure from Gigantic Brain's Invasion Discography, and I'm sure a lot of close-minded metal heads will be disappointed with World - however I'm quite glad that I didn't sit through 5 listens of a disposable cyber-grind album this morning. I fucking hate Agoraphobic Nosebleed. Be sure to check this release out if you're not a bland metal caricature with a penchant for (and only for) generic extreme metal.
Look out for the release of World on Mainstay Recordings - their website is currently down for a redesign. News has it the man behind Gigantic Brain, John Brown is already working on new Gigantic Brain material, as well as a grind collaboration project with guitarist Rene Perez of Flash Parade entitled Time Waits For No Man. I'm looking forward to both projects.
Obey the brain - and be sure to check out Teufel's review of World. My money has it he wasn't quite as hungover as I was while writing his review.
http://www.myspace.com/giganticbrain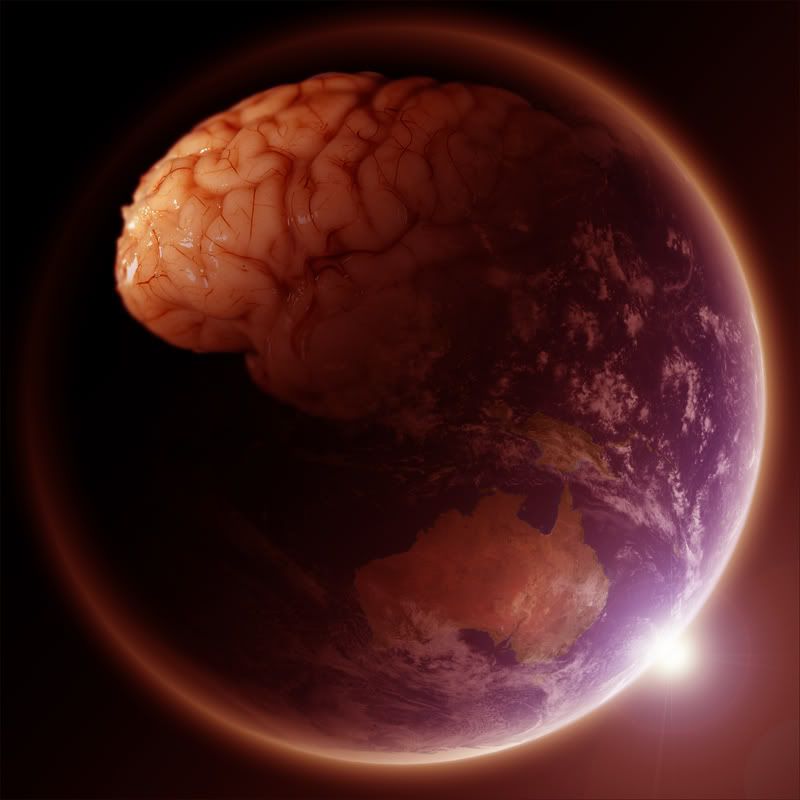 Gigantic Brain - my favourite alien cybergrinders (aside from maybe Eyetofuk) - are finally making a come back after their killer and very-out-of-print 2004 release The Invasion Discography!
Seems like they've got a new release called World coming out on Razorback Records in the near future.
Check out their MySpace for two preview tracks, or goto Razorback Records for more info.
FEAR THE BRAIN!
Gigantic Brain is the ruler of the unexplained alien hordes.
Its plans are to demolish every living thing on planet earth, and then move on until every planet is rid of all life.

63 planet-smashing tracks of complete madness! Featuring incredible artwork by giant- monster artist master Todd Tennant(G-Fan). Get ready for a total brain-warping assault of the best sci-fi-grind EVER!

GIGANTIC BRAIN is without a doubt, the most insane drum-machine fueled grind band around today, beating 95% of the other bands at their own game. Themes of alien creatures taking over humanity blended with ultra-tight, pinsharp accurate laser-blast beats and an assembly of incredibly frightening vocal FX is what you can except to hear when you enter the bizarre world of GIGANTIC BRAIN. Get ready for some of the most memorable, creative, original, and downright TERRIFYING grind you will ever hear...obey the BRAIN!