Grindhead Records are proud to announce the second East West Death Grind Fest in Sydney on the 20th of November at the Lewisham Hotel!
This years line up boasts some of the best death metal and grindcore bands that Australia has to offer.
Entry is only $20 and tickets will be available on the door.
Also, as an added bonus all Grindhead Records CD's will be available for only $5.00, so bring a bag so you can stock up! Here is a link to the Facebook event.
See you there and stay sick!
http://www.grindheadrecords.com
http://www.myspace.com/grindhead
Melbourne's Guild of Destruction are a tightly knit thrashing blackened death metal outfit, rejecting the polished and over-produced sound of modern death metal to throw back to an old-school sound focused on intensity and chaos with razor-sharp precision.
Grindhead Records recently released their 2nd full length album 'We Are Vermin'. These two well-produced live cuts are sourced from the bands album launch in Melbourne. Check em out:
Guild of Destruction - Suffering The Beast
Guild of Destruction - Mutating The Gene
http://www.myspace.com/guildofdestruction
http://www.youtube.com/user/guildofdestruction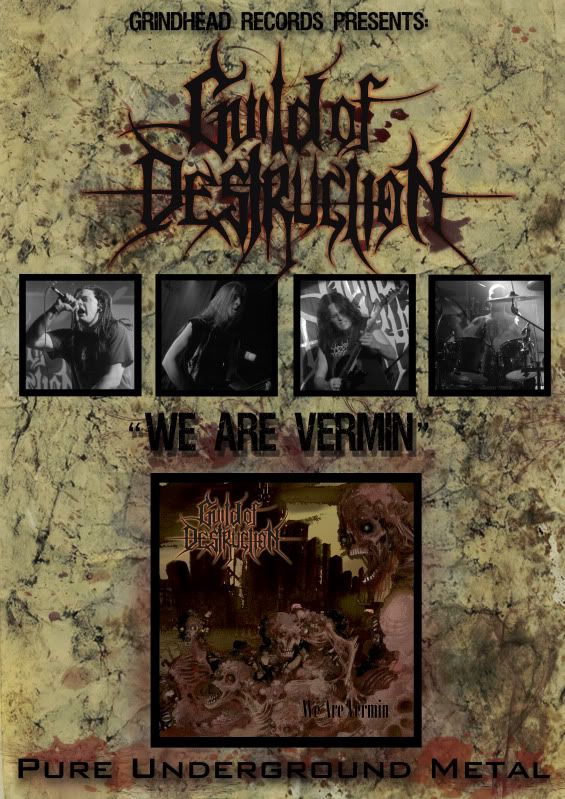 Here are 16 MP3s from the latest 10 Grindhead Records releases - please take the time to enjoy them.
All these releases (and MP3s) are available from the official Grindhead Records website for $15 AUD or $10 USD (postage inclusive).
MP3: Sound of Detestation - Voided and Blind

ALBUM: SOUND OF DETESTATION
MP3: Eyetofuk - Unifuk Zombie

MP3: Putrid Whore - XXX: The Number of the Bitch

ALBUM: DRUFUKED AND PORNIFIED
MP3: Maximum Perversion - Snowdropper

MP3: Ebolie - 1800 Fashioncore Kids Helpline
MP3: Guild of Destruction - Kill Kill Kill

ALBUM: INTO OBLIVION
MP3: Mangled Whore Flesh - Zombie Outbreak

MP3: Malignant Germ Infestation - Labia Jerky

ALBUM: SPLIT CD
MP3: Embalming Theatre - He Raped his Dying Daughter

MP3: Hacksaw Surgery - Severed and Eaten

ALBUM: D-COMPOSITION
MP3: Gutted with Broken Glass - Headfuck

ALBUM: BEATEN TO A BLOODY PULP
MP3: Roadside Burial - Vengeance Is Mine

MP3: Exhibit A - Urination Contest Disorder

ALBUM: SUCH IS LIFE / HOME DENTISTRY

MP3: Devoured Flesh Regurgitation - Bones Flesh N' Partysnacks

ALBUM: BONES FLESH N' PARTYSNACKS

MP3: Roncsipar - Kibera

ALBUM: ANTIMONUMENTUM