Conquest for Death have announced a tour of Australia during October with Cut Sick!
Conquest for Death is a fast thrashy old school hardcore outfit made up of members of What Happens Next?, Artimus Pyle, All You Can Eat, Love Songs, Charm (Japan), Pisschrist & Straightjacket Nation - so it's a little bit of a punk rock supergroup.
They're playing with The Kill, Dad They Broke Me, The Corruptors (members of Los Diablos, Space Bong and The Guantanamo Bay City Rollers), Straightjacket Nation, 4 Dead, Crux, Deathcage, Maus and Pathetic Human over the course of the tour. They've got a pretty crazy live show, so be sure to cut the sleeves off your old Sick of it All t-shirts, do some dumbell curls and practice your spin kicks before the gig rolls around.
http://www.myspace.com/conquestfordeathsf
All shows with Cut Sick except *
*Friday October 10 - The Arthouse, Melbourne
w. The Kill, Dad They Broke Me, Useless Children, Doubled Over
Saturday 11th October - Worldsend, Adelaide
w.Snake Run, Corrupters (members of Los Diablos, Spacebong & Guantanamo Bay City Rollers)
Sunday 12th October - Fitzroy Bowls Club, Melbourne ALL AGES 7pm start
w. Straightjacket Nation
Tuesday 14th October - Bar 32, Canberra
w. 4 Dead, Slowburn
Wednesday 15th October - Hamilton Station Hotel, Newcastle
w. Shitfight, White Male Dumbinance
Friday 17th October - The Jubilee, Brisbane
w. Insurgents, Dick Nasty & Hatefuck
Saturday 18th October - Maggotsville, Sydney
w. Crux, Deathcage & Maus
Sunday 19th October - Bar Open, Melbourne
w, Pathetic Human, Collapsed Toilet Vietnam & Pissbolt.
There are more than a few good shows going down in Sydney town this weekend. Personally I'll be at the Squat Club one at the Excelsior come Saturday night, followed by some warehouse noise thing with Anklepants I think might be on from midnight at Louie's in Marrickville.
Oh and Testament are playing at The Metro too on Saturday if thats your kinda thing.
RECOMMENDATIONS, BABY:
Maggotsville - 40 Fitzroy st, Marrickville
Saturday 27th Sept 8pm $8
Scum System Kill (crusty punx)
Useless Children (Melbourne, female fronted fast hardcore)
Repo Man (80s style mosh)
Maus (Instrumental grind ex-Massappeal)
Excelsior Hotel - 64 Foveaux St Surry Hills
Saturday 27th Sept $8 Presale $10 on door
Part of Bird's Robe Collective.
Meladora
Aquanaut (VIC)
Squat Club
Six Thinking Hats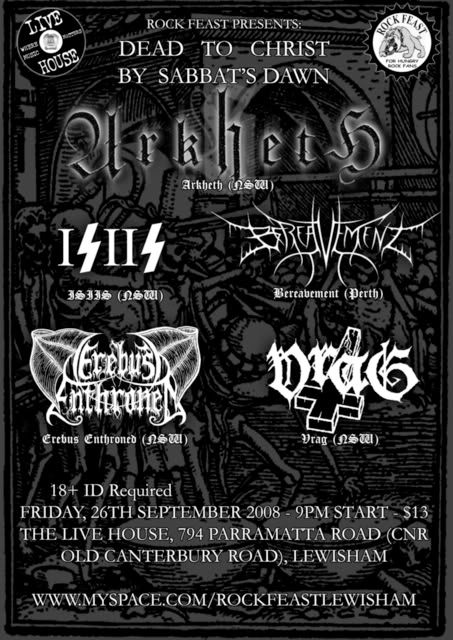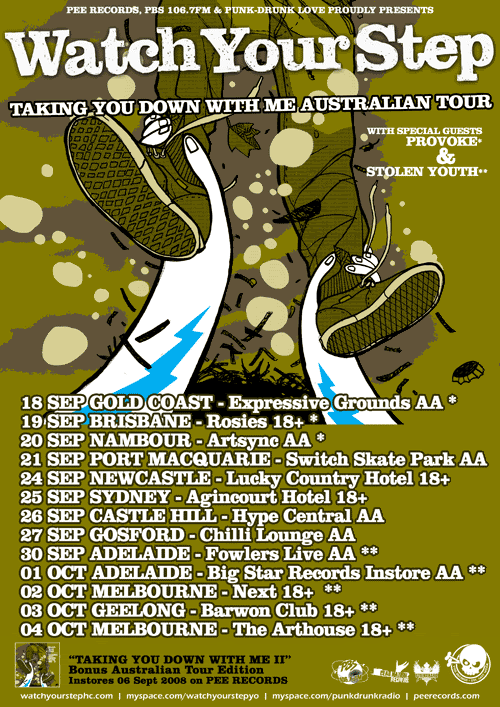 Captain Cleanoff have long been considered one of Australia's (and dare I say the worlds) best grind bands. These guys manage to mix mosh-inducing punk grooves with sheer blasting brutality, coupled with an inimitable vocals style, an enormous live sound and a sense of humour and fun.
Not only have they released two instant classics within the genre (Self-titled and Symphonies of Slackness), but they are also one of Australia's best live bands (rivaled only by fellow grind heavyweights Agents of Abhorrence, The Kill and Fuck I'm Dead in my opinion).
1 Nov  THE ARTHOUSE MELBOURNE (Fuck I'm Dead, Roskopp, SFHS)
2 Nov  MISSING LINK MELBOURNE (The Kill)
5 Nov  HAMILTON STATION HOTEL NEWCASTLE (Grannyfist, BTBG, Shitfight)
6 Nov  BRANNIGANS TAVERN GOLD COAST
7 Nov  ROSIES LIVE BRISBANE (Daemon Foetal Harvest)
8 Nov  MAGGOTSVILLE SYDNEY (Deathcage, Roadside Burial, Maus, Ebolie)
9 Nov  REPRESSED RECORDS SYDNEY (Kill A Celebrity, Code of Lies)
21 Nov  AMPLIFIER BAR PERTH (The Furor, Cuntscrape, Vespers Descent)
22 Nov  LEEDERVILLE HQ SKATEPARK PERTH (Grotesque, Claim The Throne, Death Fucking Cunt)
27 Nov  THE OLD BAR MELBOURNE (Pathetic Human, DB Call)
28 Nov  THE SALOON BAR LAUNCESTON (3 Victims, DB Call, Nopse Teipsum)
29 Nov  BRISBANE HOTEL (all ages) HOBART
29 Nov  BRISBANE HOTEL (18+) HOBART
So order your copy of Symphonies of Slackness and draw some love hearts, unicorns and rainbows around the date Cleanoff come to your town!
http://www.myspace.com/captaincleanoff
Hardcore Fashion Parade - The Corner Hotel (VIC) 2007
Meathead - The Corner Hotel (VIC) 2007
Ahh now here is a rare gem from Australia's extreme scene - so rare, I doubt even fans of the band would've heard this. This is Dot Dot Dot's never-released album 'Fits of Nothing' from 2002.
Dot Dot Dot (or ...) are/were a spastic, ear-piecing Sydney punk/powerviolence band with a bit of grind and noise thrown in for good measure. They played around 25-30 shows from 2000 to 2003, and it's members would go on to form the likes of Baltic, Guts, Altered Beast, ROFL*, Vae Victus, Predominant Slug, Maus and Sirens of IO.
The lineup was: MICKO (vocals), SHOGUN (guitar), ROCKY (bass) and DEANO (drums).
Pretty cool stuff if you ask me, well worth a listen, especially for fans of powerviolence like Spazz and Man is the Bastard, as well as every fast, angry punk band. It's a cross between fast screamy punk and powerviolence with some spastic and discordant shit thrown in with a few suprises and played with a sense of humour. There are some guest vocals from Troy (ROFL) and Ari (Nintendo Police, Baltic) in the mix as well.
Download action cop: Dot Dot Dot - Fits of Nothing
Now lets see if I can't back this up with some downloads in the coming weeks.
*Who have a killer out-of-print split with the very cool Frank Rizzo hovering around in DIY second hand CD stores - maybe I should see if the guys'll let me throw that up here sometime?
Tonight a good gig on at the Landsdowne for once!
Friday 11th April
8pm
Free Entry
New Justice Team
Vae Victus
Frank Rizzo
DeathCage (ex Smash n Grab)
Taipan
Maus (ex Massappeal)