SLAYFEST
"REUNION EDITION"
starring
PSYCROPTIC – FULL SCALE  - TOE TO TOE
ABRAMELIN - MUTT – DYSCORD - FROM THE RUINS
CHOKE - VANADIUM - BARE BONES -  CADDIS - BEERFRIDGE
MAXIMUM PERVERSION – UNRAVEL - POPULATION CONTROL
+ DJ'S CAIN – POLLY & BONES – NICKY KNOX & CRAFTER
+ BAND MERCH – FOOD – COMEDIANS – GOOD VIBES
SATURDAY 10 MARCH 2018
CAPITOL & AMPLIFIER, PERTH (18+)
1 NIGHT – 3 STAGES – NO REGRETS
Doors Open 6pm. Tickets $39.90 from Oztix
TICKETS ON SALE NOW
Presented by Ram-Raid Entertainment, Soundworks Touring & RTRFM 92.1
For full event information and updates visit: www.facebook.com/slayfestperth
Only those deviants in Perth could make this happen.
Three years ago the first ever Grind My Bitch Up took place at The Hyde Park Hotel.
This year sees the return with Grind My Bitch Up 2!!
Featuring REZUME from Indonesia, BLOWTORCH ABORTION in their first gig in 3 years, INANIMACY launching the debut cd 'Transcending Existence', Carcasss tribute band FLATUS playing a set of 87-89 old school Carcass classics, DFC returning after years in the wilderness, ABHORRENT in their debut gig, old favourites MAXIMUM PERVERSION,  local heroes ANIMISTIC and the ever welcomed CHAINSAW ABORTION.
GRIND MY BITCH UP 2 is going to rip your head off, shit down your neck & spank you on the botty.
Saturday 8th September
The Den, Civic Hotel, Inglewood
Doors 4pm!!!
The good guys PRIME CUTS MUSIC will be having a merch stand with cheap as shit cds & sick fest tshirts will be on sale thanks to APPAREL DIRECT!
Facebook event page:
http://www.facebook.com/events/241413749313590/
www.primecuts.com.au
www.facebook.com/ApparelDirect
www.facebook.com/rezumeslam
www.facebook.com/inanimacyau
www.facebook.com/AnimisticOfficial
www.facebook.com/pages/CHAINSAW-ABORTION/262333037897
www.facebook.com/AbhorrentGrindcore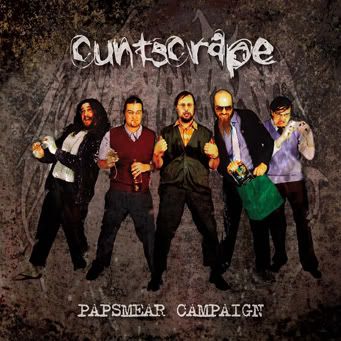 What can be said about WA's debauched porno-grinding perverts Cuntscrape? Their tunes are as groove-laden and catchy as they are perverse and pornographic - taking Heartwork-era Carcass and the dark humour of Macabre while knocking up the rock (and cock) factor to 11.
The result is an outrageously infectious metal group who go above and beyond to rock in the name of porn. With members of Maximum Perversion, Pathogen and The Furor, who could expect any less?
Cuntscape have returned with a brand new full length Papsmear Campaign (GET IT?!?!??!) and promise "23 quim quivering tracks specifically written for that special speculum moment". Considering how ridiculously fun their last two offerings have been (thats their full length Thrush Bang Mania and their Split Roast split CD) I'm very much looking forward to cranking this at inappropriate volumes around the elderly.
Papsmear Campaign is out on Prime Cuts Music on Novemeber 27th, 2009 - which is also the date which launches their national tour (including a run with Grindhead Records' and 666 Entertainments Slaughterfest III in Canberra, Sydney and Newcastle).

Cuntscrape Natioanl Tour Dates
Nov 27th – Amplifer Bar, Perth with Claim The Throne, Gallows For Grace & Nexus
Dec 11th – Monstrothic @ Rosies, Brisbane – with The Dead & Brazen Bull
Dec 12th – The Del Plaza, Southport, Gold Coast with Meat Grinder, Hate Disciple
Dec 13th – Cleveland Memorial Hall with Defamer, People Die, Cross The Lips Of Grace, Aversions Crowned
Dec 17th – Hamilton Station Hotel, Newcastle – SLAUGHTERFEST III
Dec 18th – The Basement, Canberra – SLAUGHTERFEST III
Dec 19th – Sandringham Hotel, Sydney – SLAUGHTERFEST III
http://www.myspace.com/grindecologyst
http://www.myspace.com/primecutsmusic
http://www.myspace.com/slaughterfestaustralia
Alright, so my brain is still scrambled and I've spent most of the last few days trying to piece myself back together, but let's see if I can't churn out a quick little rundown of Ebolie's South Australian and Western Australian tour.
Adelaide.


First off, Adelaide is fucking freezing. Kegan of Space Bong and Death-Cult Jock was nice enough to arrange the show, arrange a backline, put us up for the night, and tend to our various rockstar demands. He's always a very generous man which is very much appreciated. Anyone looking to play a show in Adelaide; you should speak to that man.
We played in some fucked up venue called Live On Light. Picture this: one half of the venue filled with scummy fans of doom and grindcore, dressed predominately in black and out of their minds while - the other half is an ultra-trendy pop/house dance nightclub. One room had Space Bong playing ultra-droning doom with an awe-inspiringly loud sound, while out the front door shitty little 90's dance tunes played. Slightly disconcerting. Even funnier was the fact that the vocals from the bands next door was coming through the PA in the dance club - and seriously who hasn't wanted to hear Daft Punk with guttural lows?
Death-Cult Jock were quite cool, even better than I'd remembered from Scumfest 2009. They play really tight punky Napalm Death and Terrorizer styled grindcore with some doom mixed in for good measure. One Step Beyond seemed a little distant from the crowd most of the night, but they put on an excellent show with an amazing mix of Morbid Angel, Macabre and Primus. That bassist can slap like a mutha-fucker and their more experimental moments were especially cool.
Space Bong. What can be said about Space Bong? I'm starting to think they might be my new favourite Australian band. They play droning Earth and Sleep Dopesmoker-era doom and they are fucking amazing. They are also incredibly loud. Guitarist Dave (who also plays in Death-Cult Jock and God God Dammit Dammit, not to mention he's ex-The Rivalry) is simply a fucking genius. Everything he touches turns to musical gold. Buy their album from Anno Vo's (Crux) label. See them play.
Finally God God Dammit Dammit came out to play to an absolutely sauced crowd at 2am; they're akin to the Sydney band Brass Knuckles. They are the ultimate 13 piece funk party band. The energy these guys inject the crowd with is absolutely amazing. Always a blast. Shortly after they finished up, the venue closed up but allowed the bands and our group of friends to stay to drink, smoke and party until the sun came up. God damn I love Adelaide.
Perth.
Dyson (Soundworks Touring, Prime Cuts and Cuntscrape amongst plenty else) is the man with the plan when it comes to Perth. The first night he set up a killer metal gig then pulled through with an Extortion support slot the next night! The first night was opened by Death Fucking Cunt, followed by those lovable Carcass and Macabre perverted grinders Maximum Perversion. That actually marked the third tour which Ebolie has played with the Maxi P guys on (Exhumed 2003, Maxi P East Coast Tour 2007, Ebolie SA/WA Tour 2009). Cuntscrape closed up the night of depravity to a very solid crowd (I think around 140 payers?).
Afterwards we spent the night drinking Tullamore Dew Irish Whiskey and watching Kickboxer, John Rambo and Twins. After visiting Bon Scott's grave (which was as an anticlimactic event as they come), we played our last show on the Sunday. The gig opened up with Suffer who play noisy hardcore a la Breach which was quite cool. I didn't catch much of Agony or Arterial Heamorrhage unforunately since I was foraging for food.
By the time we played the crowd was quite intoxicated. Quite suprisingly we were received the best that night amongst a group of hardcore and powerviolence bands - better than we had the grind, doom, crust and death metal crowds. Extortion were fucking awesome. I sat back and just watched that powerhouse of a drummer absoutely destroy his kit - those guys are amazingly tight live. I saw these guys play in Sydney back a few months ago at the Bald Faced, but the larger venue really sucked out the energy of the band and to tell you the truth I didn't enjoy them on that occasion.
Killer tour. Much thanks to the likes of Kegan and Dyson for making it all happen, and for the hospitality of Maximum Perversion and Space Bong. I'll surely be back to your towns in the very near future (my new stoner project heads to Adelaide in October actually).
http://www.myspace.com/ebolie
http://www.myspace.com/deathcultjock
http://www.myspace.com/onesteprockstar
http://www.myspace.com/spacebong
http://www.myspace.com/godgoddammitdammitband
http://www.myspace.com/maximumperversion
http://www.myspace.com/grindecologyst
http://www.myspace.com/extortionextortion
Friday Night - A good looking gig out west including Grindheads' own Maximum Perversion. Check it out if you live on that side of our country.
Hyde Park Hotel
Perth
Featuring:
Battletruk
Maximum Perversion
Project Mayhem
Public Urination

Here are 16 MP3s from the latest 10 Grindhead Records releases - please take the time to enjoy them.
All these releases (and MP3s) are available from the official Grindhead Records website for $15 AUD or $10 USD (postage inclusive).
MP3: Sound of Detestation - Voided and Blind

ALBUM: SOUND OF DETESTATION
MP3: Eyetofuk - Unifuk Zombie

MP3: Putrid Whore - XXX: The Number of the Bitch

ALBUM: DRUFUKED AND PORNIFIED
MP3: Maximum Perversion - Snowdropper

MP3: Ebolie - 1800 Fashioncore Kids Helpline
MP3: Guild of Destruction - Kill Kill Kill

ALBUM: INTO OBLIVION
MP3: Mangled Whore Flesh - Zombie Outbreak

MP3: Malignant Germ Infestation - Labia Jerky

ALBUM: SPLIT CD
MP3: Embalming Theatre - He Raped his Dying Daughter

MP3: Hacksaw Surgery - Severed and Eaten

ALBUM: D-COMPOSITION
MP3: Gutted with Broken Glass - Headfuck

ALBUM: BEATEN TO A BLOODY PULP
MP3: Roadside Burial - Vengeance Is Mine

MP3: Exhibit A - Urination Contest Disorder

ALBUM: SUCH IS LIFE / HOME DENTISTRY

MP3: Devoured Flesh Regurgitation - Bones Flesh N' Partysnacks

ALBUM: BONES FLESH N' PARTYSNACKS

MP3: Roncsipar - Kibera

ALBUM: ANTIMONUMENTUM