For some dirty dirty punk shows this weekend you cant go past: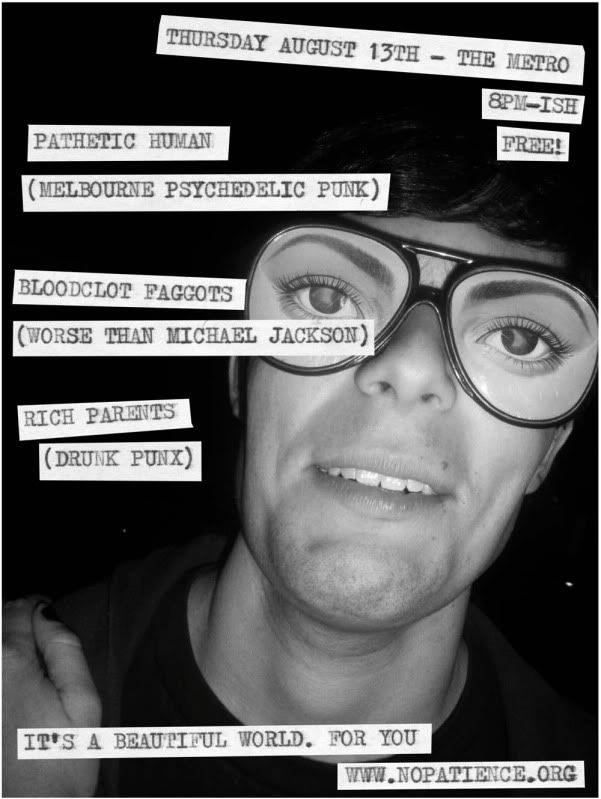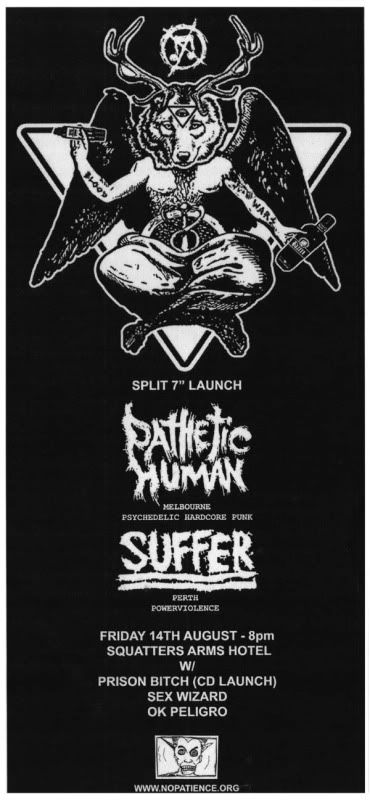 War All The Time (UK) - The totalitar influenced hardcore from Leeds are coming to Australia for a quick trip up the East Coast of Australia. They play fucked up fast aggressive hardcore thrash with influences from bands such as early Napalm Death. With members from BOXED IN / SAWN OFF / KITO / HEALTH HAZARD / MINUTE MANIFESTO etc.
I cant find many details about the tour dates but here is a quick description. If you know more info about it please feel free to comment support bands etc.
Sat 15th Nov -The Arthouse 8pm
War All The Time
Pathetic Human
Rankwaste
Outta Control
Occult Blood
Sun 16th Nov - Barricade Books (62 St Georges Rd Northcote) 7pm
War All The Time
Straightjacket Nation
Nuclear Sex Addict
Lanesplitter
Tue 18th Novemeber - Scene Around Sound
Brookvale
Wed 19th November - Consolador De Dos Caras
La Campana
53-55 Liverpool St
War All The Time
Crux
Athol
Do Not Resuscitate
Thursday 20th November - The Cambridge
Hunter St
Newcastle
Saturday 22nd November - Broadway Hotel
Queensland
http://www.myspace.com/warallthetimeuk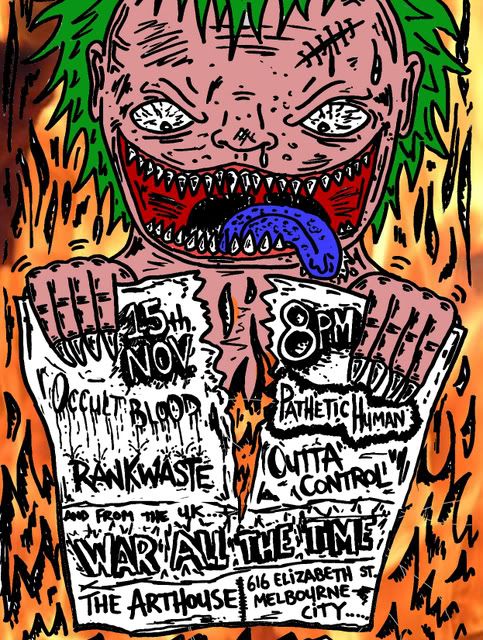 Conquest for Death have announced a tour of Australia during October with Cut Sick!
Conquest for Death is a fast thrashy old school hardcore outfit made up of members of What Happens Next?, Artimus Pyle, All You Can Eat, Love Songs, Charm (Japan), Pisschrist & Straightjacket Nation - so it's a little bit of a punk rock supergroup.
They're playing with The Kill, Dad They Broke Me, The Corruptors (members of Los Diablos, Space Bong and The Guantanamo Bay City Rollers), Straightjacket Nation, 4 Dead, Crux, Deathcage, Maus and Pathetic Human over the course of the tour. They've got a pretty crazy live show, so be sure to cut the sleeves off your old Sick of it All t-shirts, do some dumbell curls and practice your spin kicks before the gig rolls around.
http://www.myspace.com/conquestfordeathsf
All shows with Cut Sick except *
*Friday October 10 - The Arthouse, Melbourne
w. The Kill, Dad They Broke Me, Useless Children, Doubled Over
Saturday 11th October - Worldsend, Adelaide
w.Snake Run, Corrupters (members of Los Diablos, Spacebong & Guantanamo Bay City Rollers)
Sunday 12th October - Fitzroy Bowls Club, Melbourne ALL AGES 7pm start
w. Straightjacket Nation
Tuesday 14th October - Bar 32, Canberra
w. 4 Dead, Slowburn
Wednesday 15th October - Hamilton Station Hotel, Newcastle
w. Shitfight, White Male Dumbinance
Friday 17th October - The Jubilee, Brisbane
w. Insurgents, Dick Nasty & Hatefuck
Saturday 18th October - Maggotsville, Sydney
w. Crux, Deathcage & Maus
Sunday 19th October - Bar Open, Melbourne
w, Pathetic Human, Collapsed Toilet Vietnam & Pissbolt.
Captain Cleanoff have long been considered one of Australia's (and dare I say the worlds) best grind bands. These guys manage to mix mosh-inducing punk grooves with sheer blasting brutality, coupled with an inimitable vocals style, an enormous live sound and a sense of humour and fun.
Not only have they released two instant classics within the genre (Self-titled and Symphonies of Slackness), but they are also one of Australia's best live bands (rivaled only by fellow grind heavyweights Agents of Abhorrence, The Kill and Fuck I'm Dead in my opinion).
1 Nov  THE ARTHOUSE MELBOURNE (Fuck I'm Dead, Roskopp, SFHS)
2 Nov  MISSING LINK MELBOURNE (The Kill)
5 Nov  HAMILTON STATION HOTEL NEWCASTLE (Grannyfist, BTBG, Shitfight)
6 Nov  BRANNIGANS TAVERN GOLD COAST
7 Nov  ROSIES LIVE BRISBANE (Daemon Foetal Harvest)
8 Nov  MAGGOTSVILLE SYDNEY (Deathcage, Roadside Burial, Maus, Ebolie)
9 Nov  REPRESSED RECORDS SYDNEY (Kill A Celebrity, Code of Lies)
21 Nov  AMPLIFIER BAR PERTH (The Furor, Cuntscrape, Vespers Descent)
22 Nov  LEEDERVILLE HQ SKATEPARK PERTH (Grotesque, Claim The Throne, Death Fucking Cunt)
27 Nov  THE OLD BAR MELBOURNE (Pathetic Human, DB Call)
28 Nov  THE SALOON BAR LAUNCESTON (3 Victims, DB Call, Nopse Teipsum)
29 Nov  BRISBANE HOTEL (all ages) HOBART
29 Nov  BRISBANE HOTEL (18+) HOBART
So order your copy of Symphonies of Slackness and draw some love hearts, unicorns and rainbows around the date Cleanoff come to your town!
http://www.myspace.com/captaincleanoff
Hardcore Fashion Parade - The Corner Hotel (VIC) 2007
Meathead - The Corner Hotel (VIC) 2007
Any self respecting Melbournite will be watching The Kill destroy all alongside Super Fun Happy Slide and Pathetic Human at the Arthouse tonight; just like most self respecting Sydney folk will be scoping out Dining in Tuscany, Crux and Walrora (VIC) at Maggotsville.
http://www.myspace.com/thekillgrind
http://www.myspace.com/superfunhappyslide
http://www.myspace.com/pathetichuman
http://www.myspace.com/cruxhc
http://www.myspace.com/walrora
http://www.myspace.com/diningintuscany
Give em clam digger...