Thrash Blast Grind Tour – Australia March 21 – April 5, 2019
PHILIP H. ANSELMO & THE ILLEGALS (USA) + KING PARROT
with special guests: Palm (Japan) & Potion
EXTRA SHOWS ADDED!
March 21st  - The Basement, Canberra
March 22nd  - Max Watts, Melbourne
SATURDAY 23 MARCH – CAPITOL & AMPLIFIER – PERTH

March 24th - The Governer, Adelaide
March 25th - Enigma Bar, Adelaide w/ Voros*
March 26th - San Fran, Wellington*
March 27th  - Galatos, Auckland*
March 28th -The Back Room, Brisbane
March 29th  - The Back Room, Brisbane
March 30th - The Factory, Sydney
March 31st - The Cambridge, Newcastle
April 1st - Frankie's Pizza, Sydney w/Black Rheno - Free show!*
April 4th - The Corner, Melbourne
April 5th - The Brisbane Hotel, Hobart
*No Palm & Potion
TICKETS ON SALE IMMEDIATELY at:
ADELAIDE - http://soundworksdirect.eventbrite.com  / www.moshtix.com.au
BRISBANE - http://soundworksdirect.eventbrite.com  /  www.oztix.com.au
www.facebook.com/Philipillegals
SATURDAY 23 MARCH – CAPITOL & AMPLIFIER – PERTH
1 NIGHT – 3 STAGES – 15 BANDS – NO REGRETS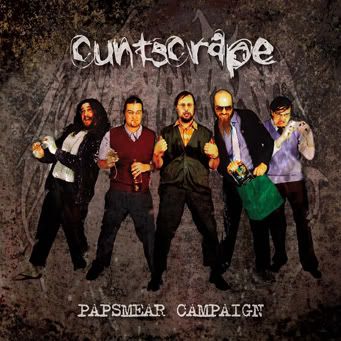 What can be said about WA's debauched porno-grinding perverts Cuntscrape? Their tunes are as groove-laden and catchy as they are perverse and pornographic - taking Heartwork-era Carcass and the dark humour of Macabre while knocking up the rock (and cock) factor to 11.
The result is an outrageously infectious metal group who go above and beyond to rock in the name of porn. With members of Maximum Perversion, Pathogen and The Furor, who could expect any less?
Cuntscape have returned with a brand new full length Papsmear Campaign (GET IT?!?!??!) and promise "23 quim quivering tracks specifically written for that special speculum moment". Considering how ridiculously fun their last two offerings have been (thats their full length Thrush Bang Mania and their Split Roast split CD) I'm very much looking forward to cranking this at inappropriate volumes around the elderly.
Papsmear Campaign is out on Prime Cuts Music on Novemeber 27th, 2009 - which is also the date which launches their national tour (including a run with Grindhead Records' and 666 Entertainments Slaughterfest III in Canberra, Sydney and Newcastle).

Cuntscrape Natioanl Tour Dates
Nov 27th – Amplifer Bar, Perth with Claim The Throne, Gallows For Grace & Nexus
Dec 11th – Monstrothic @ Rosies, Brisbane – with The Dead & Brazen Bull
Dec 12th – The Del Plaza, Southport, Gold Coast with Meat Grinder, Hate Disciple
Dec 13th – Cleveland Memorial Hall with Defamer, People Die, Cross The Lips Of Grace, Aversions Crowned
Dec 17th – Hamilton Station Hotel, Newcastle – SLAUGHTERFEST III
Dec 18th – The Basement, Canberra – SLAUGHTERFEST III
Dec 19th – Sandringham Hotel, Sydney – SLAUGHTERFEST III
http://www.myspace.com/grindecologyst
http://www.myspace.com/primecutsmusic
http://www.myspace.com/slaughterfestaustralia