Alright, it's another slow new day/week. So here is a list of killer bands you should familiarise yourself with. Be forewarned; most of them are not metal (which shoudn't really bother you if you have a taste in music rather than a taste in one genre).
Brian Campeau: an incredible acoustic singer/songwriter originally from Canadian, but now located in Sydney. Brian has an incredible vocal range matched with a very unorthodox style of guitar playing. His recorded works are influenced by the likes of Thom Yorke and Bjork; balancing soaring emotional vocals with equal parts minimalist acoustic recordings and dreamy atmospheric textures.
http://www.myspace.com/briancampeau
Five Star Prison Cell: a totally unique Australian metal band based heavily around the polyrhythmic complexity of Meshuggah with a healthy helping of groove. These guys are further differentiated by an extremely dynamic vocalist. There is definitely no other band like them; and after seeing these guys play last Friday I have to say they are probably the most insanely tight fuck-off musicians I have seen from a band in a long time.
http://www.myspace.com/fivestarprisoncell
God God Dammit Dammit: an 13 piece funk/party band featuring members of The Rivalry, Space Bong, Robotosaurus and I'm sure plenty of others. Somebody's getting FUNKY.
http://www.myspace.com/godgoddammitdammitband
Helm: I cannot say enough good words about these guys. They have taken the high points of Cult of Luna, Neurosis and Isis and transformed those elements into something really unique. Amazing clean sung harmonies accompany anguished screams and an endless back catalog of killer riffs, build-ups and meditations. Musically these guys fucking know how to structure a song. The more I listen to their debut album, the more I begin to realise that it will not take long for these guys to surpass anything Isis and Cult of Luna have had to offer - and considering my love for both those bands, that is not a small statement to make.
http://www.myspace.com/ghostatthehelm
Hospital the Musical: the meeting of Botch, The Locust and The Dillinger Escape Plan. Insanely talented musicians making technically obscene, raging hardcore. Now that could sound like a recipe for disaster, but this bands flirtation with the experimental and dedication to constantly pushing their music in new directions make these guys Australia's best band in the genre since The Rivalry. Their new full length REDorphan is fucking amazing.
http://www.myspace.com/hospitalthemusical
Looking Glass: these dudes hark back to the days when psychedelic rock ruled the earth with guitar-wielding gods with obscene narcotic-based diets. Without a doubt, this is THE BEST fucking band in Australia when it comes to stoner and psychedelic rock. They take the best elements of Black Sabbath, Led Zeppelin and Jimi Hendrix without ever sounding derivative. Their live presence is absolutely fucking crushing; and once more (as seems to be the theme) their musicianship is impeccable. Guitarist/vocalist Marcus is one of those rare virtuosos on guitar that makes everyone shut the fuck up and stare in disbelief at the maniac hacking at his guitar strings in total aural ecstacy. Fucking check them out.
http://www.myspace.com/lookingglass
Pirate: insane psychedelic and progressive rock. These guys are like The Mars Volta... if The Mars Volta were just 4 dudes playing intensely complex prog shit infused with such incredible groove-hooks and catchy rhythms they didn't need a vocalist to back them up. These dudes are relatively new to the Sydney scene; and fuck me if they havent got everyone's undivided attention.
http://www.myspace.com/piratewastaken
Squid: two drummers, a double-bassist and two saxes busting out insanely catchy beats in stupid time signatures, and then proceeding jam and dance. I don't know what to call this other than a party jazz jam band, but that label hardly does the immensely talented band members any justice.
http://www.myspace.com/squidlives
The Bakery: this is THE danceable funk/jazz band in Australia.
http://www.myspace.com/thebakerysydney
Hospital the Musical doing a massive tour of the country in June and July to support their new album out on Soviet Records called REDorphan. Supported the whole way by This City Sunrise who I'm very excited to see with all their hype and all.
http://www.myspace.com/hospitalthemusical
Dates:
12 Jun 2009 Club POW 18+ w/ This City Sunrise - REDorphan Tour! Werribee
13 Jun 2009 The Public Bar 18+ - REDorphan Tour Melbourne
14 Jun 2009 Musicman Megastore w/ This City Sunrise - REDorphan Tour! Bendigo
18 Jun 2009 The Basement 18+ - REDorphan Tour! Canberra
19 Jun 2009 The Bald Face Stag (Licenced/AA) - REDorphan Tour! Sydney
20 Jun 2009 St Clair Rec Centre AA w/ This City Sunrise - REDorphan Tour! Sydney
21 Jun 2009 Lake Illawarra PCYC AA w/ This City Sunrise - REDorphan Tour! Wollongong
26 Jun 2009 The Shark Bar Miami w/ This City Sunrise - REDorphan Tour! The Gold Coast
27 Jun 2009 Club 299 18+ w/ This City Sunrise - REDorphan Tour! Brisbane
27 Jun 2009 CWA Hall Ipswich w/ This City Sunrise - REDorpahn Tour! Ipswich
2 Jul 2009 Hot Damn! 18+ w/ This City Sunrise - REDorphan Tour! Sydney
3 Jul 2009 Jannali Community Hall AA w/ This City Sunrise - REDorphan Tour! Sydney
4 Jul 2009 Wollongong 18+ TBA w/ This City Sunrise - REDorphan Tour! Wollongong
9 Jul 2009 The Pony 18+ w/ This City Sunrise - REDorphan Tour! Melbourne, Victoria
10 Jul 2009 Enigma Bar (Licenced/AA) w/ This City Sunrise & Robotosauras - REDorphan Tour! Adelaide
11 Jul 2009 Jetty Bar 18+ (Gleneg) w/ This City Sunrise - REDorphan Tour! Adelaide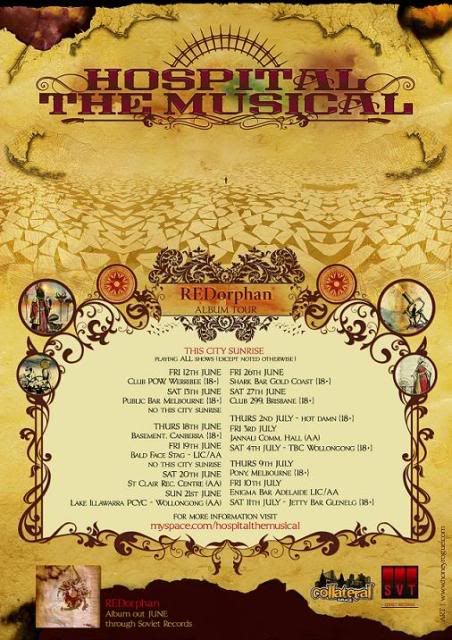 Hospital the Musical have to be one of the most uniquely talented groups of musicians in Australia. I've seen them a handful of times in the last year and have been absolutely floored by their musicianship, diversity and live energy. Really, these guys are one of those bands like The Rivalry that are just heads about the rest. They blend elements of Botch, Converge, Meshuggah and fuck knows what else, but it kills it.
They've been recording a new album (dubbed REDorphan) with the brilliant Tim Carr of Soviet Records and Tim Carr Audio (who Ebolie and Kill A Celebrity both worked with in 2008; and who also mastered Beyond Terror Beyond Grace's Extinction|Salvation). Their recording process sounds immensely fun and experimental; the guys even went to some fucked up grim cave to record some layers that "may or may not be used" in the final product. I can tell you, I'm really, really hanging out for this album and to catch them live again.
Here is the first episode of their REDorphan Studio Sessions featuring Mike (Drums).