We've got the final line-up for Victoria's awesome Such Is Life festival. This year the event is taking place on the 27th and 28th March at Truganina, about 19km west of Melbourne CBD (on the Werribee train line).
While the bands kick off at 7PM each night, shit will be going down from 1PM on the Saturday. Food is available and camping is welcomed. There will be pick ups from Laverton train station on both days at prescribed times.
Blah blah blah just check out their site for more of those tedious details. Now onto the good stuff:
Friday the 27th of March
Straightjacket Nation
Walrora (NSW/VIC)
Super Fun Happy Slide
Ex-Spectator
All My Circuits
Rort
Stab Cult (ex-Cut Sick)
Saturday the 28th of March
Pisschrist
Captain Cleanoff (SA/NSW/VIC)
Crux (NSW)
The Once Overs
Shitfight (NSW)
Taipan (NSW)
Scum System Kill (NSW)
Crossed Lines
For more information: http://www.myspace.com/suchislifefest
There are more than a few good shows going down in Sydney town this weekend. Personally I'll be at the Squat Club one at the Excelsior come Saturday night, followed by some warehouse noise thing with Anklepants I think might be on from midnight at Louie's in Marrickville.
Oh and Testament are playing at The Metro too on Saturday if thats your kinda thing.
RECOMMENDATIONS, BABY:
Maggotsville - 40 Fitzroy st, Marrickville
Saturday 27th Sept 8pm $8
Scum System Kill (crusty punx)
Useless Children (Melbourne, female fronted fast hardcore)
Repo Man (80s style mosh)
Maus (Instrumental grind ex-Massappeal)
Excelsior Hotel - 64 Foveaux St Surry Hills
Saturday 27th Sept $8 Presale $10 on door
Part of Bird's Robe Collective.
Meladora
Aquanaut (VIC)
Squat Club
Six Thinking Hats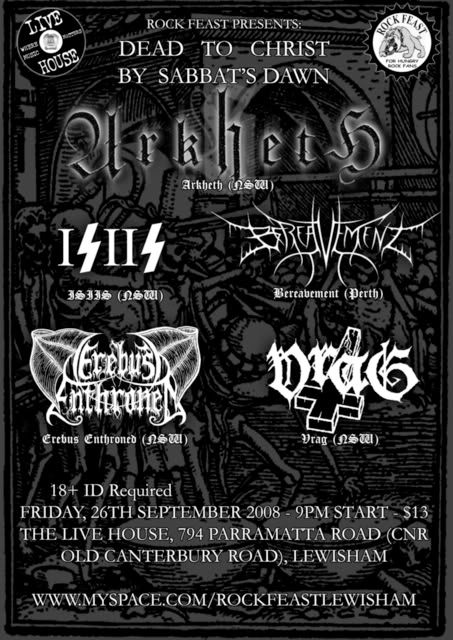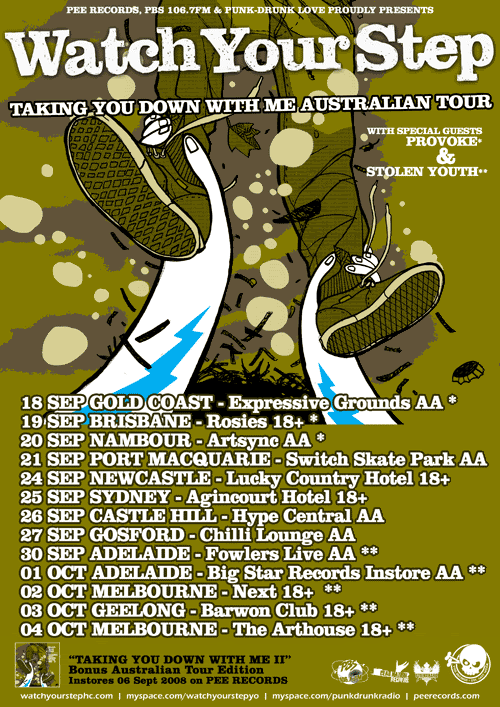 Any self respecting Melbournite will be watching The Kill destroy all alongside Super Fun Happy Slide and Pathetic Human at the Arthouse tonight; just like most self respecting Sydney folk will be scoping out Dining in Tuscany, Crux and Walrora (VIC) at Maggotsville.
http://www.myspace.com/thekillgrind
http://www.myspace.com/superfunhappyslide
http://www.myspace.com/pathetichuman
http://www.myspace.com/cruxhc
http://www.myspace.com/walrora
http://www.myspace.com/diningintuscany
Give em clam digger...

McClane have some new tracks up on their MySpace; Thats Gonna Wake The Neighbours and Deniable Thumbsucking Suicide from their new upcoming EP. http://www.myspace.com/mcclanehc
Captain Cleanoff have set up an Australian tour! It's about fucking time! Check out the dates on their MySpace page. http://www.myspace.com/captaincleanoff
Vomitose Zine has shitloads of new material such as interviews from The Kill, Ambramelin, Sinistrous Diablos, Skullhog, Eyehategod, Fuck I'm Dead and loads more. It's a great zine being written out of Melbourne, so be sure to check it out. http://vomitose.blogspot.com
The Kill are working on a new release featuring their new(ish) vocalist Nik (Super Fun Happy Slide). I know I can't fucking wait to hear it; these guys absolutely tore it up at Grindcore 2008. The bad news is they wont be heading up to Sydney in the near future as all their energy is currently devoted to this release. http://www.myspace.com/thekillgrind
Dining in Tuscany are playing at Maggotsville this Friday night with Crux, Walrora (VIC), Scum System Kill and Voting with Bricks. This will more than likely be their last show for a while as they go into pre-production for a new release in the near future. http://www.myspace.com/diningintuscany
Beyond Terror Beyond Grave have uploaded some videos and a tour diary from their recent shows in New Zealand. From all reports they went down really well, and even discovered a few cool NZ grind bands. You can catch the lucky bastards live when they support Pig Destroyer and Carcass, or on the Newcastle date on Captain Cleanoff's national tour. http://www.myspace.com/beyondterrorbeyondgrace
Crux and Grey Daturas have been added to the line-up for Pig Destroyer's Sydney show. I kinda expected some grind bands as support, but seeing Crux with a huge sound at the Gaelic should be interesting, and this will be the first chance I've been able to check out Grey Daturas live. http://www.myspace.com/cruxhc
Kill A Celebrity are flogging off their sexy new shirt design for $20 (postage included) or $15 at shows. They played last Friday with Matt (Anal Discharge, The Temperamental Pocket) filling in on vocals, and are back to a three piece as Shannon (New Blood) recently withdrew from the band, citing the belief that he felt the bands new direction was 'too brutal, too fast, too technical and simply all too much for me'.
The band are finalising artwork for their split release with UK noise/grind band Krupskaya on Grindhead Records. Their demo CD 'Grindslaughter' is still available for download through their MySpace blog. http://www.myspace.com/killacelebritygrind
Code of Lies are flogging off their cool new EP The Age of Disgrace on their MySpace page. The EP is expected to be officially released through Grindhead Records in the near future. http://www.myspace.com/codeoflies
Rather Be Dead should have copies of their new MCD 'Stock' available for sale this week. They've got some killer merch available too; but hurry - stocks are running out. http://www.myspace.com/ratherbedeadband
Summonus are looking for gigs to show off their THC-drenched brand of sludgey doom stoner rock and flog off some new shirts and CDs. Check these guys out if you havent already. Features Rod Hunt on vocals. http://www.myspace.com/summanus666
Fuck Oath have some new songs up and are looking for a bass player. http://www.myspace.com/fuckoathoz
I guess thats all for now.