Heaps on this fuckign weekend. We have Hira Hira, Raised Fist and Cannibal Corpse in town. Fuck Oath are playing in Melbourne too, and Sound the Mute are sadly playing their last show and Captain Cleanoff are playing in Sydney.
Friday
The Hamilton Station Hotel
Terrordactyl
Hira Hira
The (temperamental) Pocket
Little A
Crab Smasher
The Lansdowne Hotel
Sound The Mute (LAST SHOW!)
Code Of Lies
Fallen Dominion
Teeth and Claw
Dirty Shirlows
Captain Cleanoff
Nunchukka Superfly
Rice Corpse
Hizzettin
Saturday
The Chilli Lounge, Wyong
Terrordactyl
Hira Hira
Skippy The Bush Kangaroo
Little A
Eyes of the Scavenger
The Metro
Raised Fist
UNSW Roundhouse
Cannibal Corpse
This seems to be the weekend for Grindhead Records CD launches. Sydney beercore cunts Fuck Oath are launching their new album at The Lansdowne on Friday with a bunch of jerks and Kill A Celebrity and New Blood are launching their new releases at The Bald Faced Stag this Saturday with a bunch of jerks.
Friday night Fuck Oath are up first at a free gig at The Lansdowne Hotel. They are joined by Deathcage, A.V.O. and The Corps. How can you go wrong with a free gig, a good feed and a decent selection of James Squire beers? That kicks off at 8pm.
Saturday night Ebolie return to the stage after a 6 months hiatus - only to go back into a hiatus since their guitarist apparently needs knee surgery. Kill A Celebrity are launching their split with Krupskaya. They will be flogging off these splits for $5 and merch for $10. New Blood are also launching their new album. Also playing are Nobody Knew They Were Robots and Sound the Mute. Entry is $10 and that kicks off at 7:30pm.
That's two decent gigs to pre-occupy yourselves with. Enjoy.
http://www.myspace.com/fuckoathoz
http://www.myspace.com/ebolie
http://www.myspace.com/nobodyknewtheywererobots
http://www.myspace.com/killacelebritygrind
http://www.myspace.com/newblooddm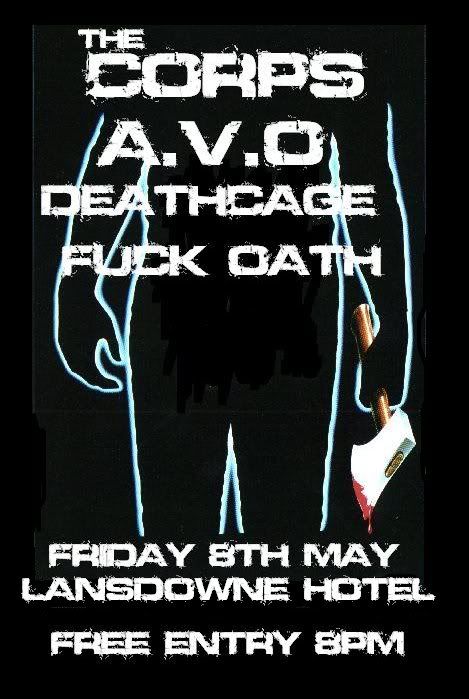 Ebolie make their return to the stage after 6 months of inactivity on Saturday May 9th to crush unbelievers and smite all who oppose them.
It all goes down at The Bald Faced Stag for a measily $10, and they may-or-may-not have their 3-way split CD with Beyond Terror Beyond Grace and Brainwash on hand for the occasion. Also appearing are Nobody Knew They Were Robots, Kill A Celebrity, New Blood and Sound the Mute.
The gig will also server as the 'official release party' for Kill A Celebrity's split with Krupskaya and
New Blood's new EP Paradise Disintegrates as well as being one of Kill A Celebrity's final shows before they forever fade into obscurity (their 2nd last Sydney show to be exact).
Ebolie have been working on a full-length album since forever and is expected for release in 2017.
For all you nerds, the Facebook event is here.
In addition to Captain Cleanoff playing at Maggotsville, the experimental hardcore band Slowly Building Weapons are playing their final show ever tonight at The Lansdowne.
It's really unforunate to see these guys break up, the few times I got a chance to see them I was very impressed. They are joined by super star Soviet records supports Hospital the Musical and Sound the Mute. It would be well worth your time to go farewell these guys. And it's free, you cheap bastard.
http://www.myspace.com/slowlybuildingweapons
http://www.myspace.com/hospitalthemusical
http://www.myspace.com/soundthemute
Sydney based record label Soviet Records is putting on a 'showcase' of sorts this Friday the 22nd of September at Hermann's Bar in Sydney University.
Here are the reasons you should go:
Dining in Tuscany and Hospital the Musical are arguably two of the best bands in Sydney and Australia. They both play non-generic, complex, intricately structured extreme music; Dining in Tuscany sounding something like a combination of Converge, Isis, black metal and grindcore, while Hospital the Musical play intense hardcore in the vein of Botch, The Locust, Daughters and The Dillinger Escape Plan.
The venue has a fucking sick sound, and hearing those bands in that environment should be more than impressive.
Let's face it; you need to get out more and listen to some different music that doesnt just rehash bad Deicide b-sides.
See you there no doubt.
http://www.myspace.com/hospitalthemusical
http://www.myspace.com/diningintuscany
http://www.myspace.com/sovietrecords