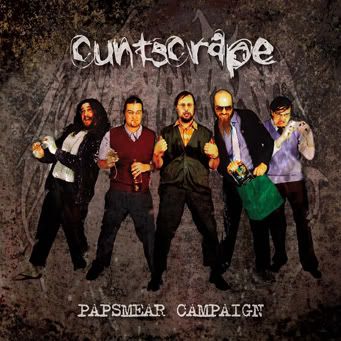 What can be said about WA's debauched porno-grinding perverts Cuntscrape? Their tunes are as groove-laden and catchy as they are perverse and pornographic - taking Heartwork-era Carcass and the dark humour of Macabre while knocking up the rock (and cock) factor to 11.
The result is an outrageously infectious metal group who go above and beyond to rock in the name of porn. With members of Maximum Perversion, Pathogen and The Furor, who could expect any less?
Cuntscape have returned with a brand new full length Papsmear Campaign (GET IT?!?!??!) and promise "23 quim quivering tracks specifically written for that special speculum moment". Considering how ridiculously fun their last two offerings have been (thats their full length Thrush Bang Mania and their Split Roast split CD) I'm very much looking forward to cranking this at inappropriate volumes around the elderly.
Papsmear Campaign is out on Prime Cuts Music on Novemeber 27th, 2009 - which is also the date which launches their national tour (including a run with Grindhead Records' and 666 Entertainments Slaughterfest III in Canberra, Sydney and Newcastle).

Cuntscrape Natioanl Tour Dates
Nov 27th – Amplifer Bar, Perth with Claim The Throne, Gallows For Grace & Nexus
Dec 11th – Monstrothic @ Rosies, Brisbane – with The Dead & Brazen Bull
Dec 12th – The Del Plaza, Southport, Gold Coast with Meat Grinder, Hate Disciple
Dec 13th – Cleveland Memorial Hall with Defamer, People Die, Cross The Lips Of Grace, Aversions Crowned
Dec 17th – Hamilton Station Hotel, Newcastle – SLAUGHTERFEST III
Dec 18th – The Basement, Canberra – SLAUGHTERFEST III
Dec 19th – Sandringham Hotel, Sydney – SLAUGHTERFEST III
http://www.myspace.com/grindecologyst
http://www.myspace.com/primecutsmusic
http://www.myspace.com/slaughterfestaustralia
Two very cool Australian bands have put out new releases in the last couple of weeks; Adelaide's filthy merchants of nihilistic doom Space Bong and Perth's depraved, porn-obsessed Cuntscrape.
Space Bong are a South Australian doooooooom band featuring members of a number of very talented groups, including Meat Wallet, Death-Cult Jock and The Guantanamo Bay City Rollers. Their debut album The Death of Utopia is now available from An Out Recordings (which is a label run by Anna Vo of Crux).
The Death of Utopia is a four song, 70-minute odyssey of noise-laden doom/sludge, made in part in collaboration with Die Like A God. It comes in a nice smick little digi-pak and is currently available from Big Star (SA), Repressed Records (NSW), Paint it Black (NSW) and Missing Link (VIC). I'm fucking very keen to get my hands on this; Space Bong fucking destroyed at Squatfest 2009.
Next up, Western Australia's Cuntscrape have released a new split CD "Split Roast" on Prime Cuts with Deathfuckingcunt. You can always count on these dudes to pull out some groovin', rockin' tunes that will transform even the most virginal angel into a filthy slab of depraved meat.
Old mate Lord Labia knows his shit, so get your gesticulating headcunt listening flaps around this Split Roast. I promise I won't film, sell and distribute the ensuing orgy that would put even the ancient cult of Dionysus to shame.
http://www.myspace.com/aor000
http://www.myspace.com/spacebong
http://www.myspace.com/grindecologyst
http://www.myspace.com/deathfuckingcunt
Those crazy porn-obsessed Western Australian cats of Cuntscrape have a few new tunes from their forthcoming split with Death Fucking Cunt, entitled Split Roast.
The two new tracks are The Veiny Shaft of Justice (cool name, and featuring vocals from Dr. Morton Fairbanks of The County Medical Examiners) and Breastaurant (with guest vocals from Tigerlily Chesney).
Their tracklist for the split has also been revealed in their MySpace blog.
Check it all out at www.myspace.com/grindecologyst - also, Beyond Terror Beyond Grave have posted up a little e-diary on their drum tracking. Click here to check it out if thats your thing. It features Steve talking at length about his drum set-up and his walk through each of the songs he recorded.