We've got the final line-up for Victoria's awesome Such Is Life festival. This year the event is taking place on the 27th and 28th March at Truganina, about 19km west of Melbourne CBD (on the Werribee train line).
While the bands kick off at 7PM each night, shit will be going down from 1PM on the Saturday. Food is available and camping is welcomed. There will be pick ups from Laverton train station on both days at prescribed times.
Blah blah blah just check out their site for more of those tedious details. Now onto the good stuff:
Friday the 27th of March
Straightjacket Nation
Walrora (NSW/VIC)
Super Fun Happy Slide
Ex-Spectator
All My Circuits
Rort
Stab Cult (ex-Cut Sick)
Saturday the 28th of March
Pisschrist
Captain Cleanoff (SA/NSW/VIC)
Crux (NSW)
The Once Overs
Shitfight (NSW)
Taipan (NSW)
Scum System Kill (NSW)
Crossed Lines
For more information: http://www.myspace.com/suchislifefest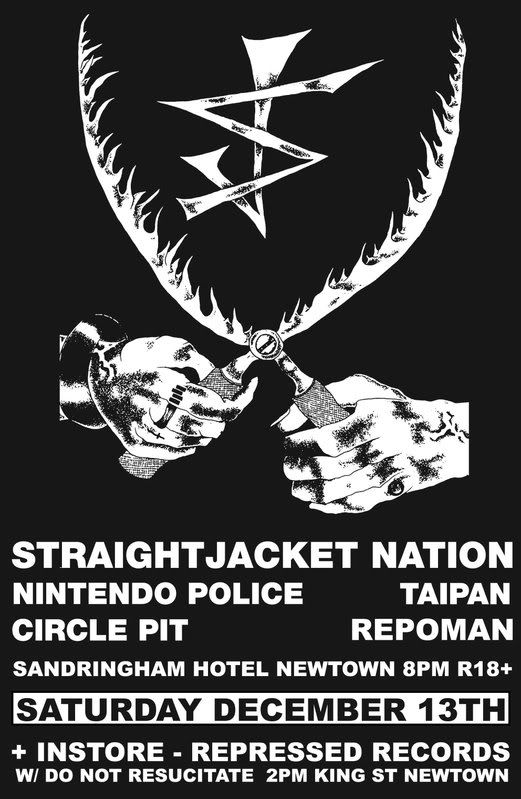 Saturday December 13th
2pm Instore
Repressed Records
Straightjacket Nation
Do Not Resuscitate
Free
8pm
Sandringham Hotel
Straightjacket Nation
Nintendo Police
Taipan
Circle Pit
Repoman
War All The Time (UK) - The totalitar influenced hardcore from Leeds are coming to Australia for a quick trip up the East Coast of Australia. They play fucked up fast aggressive hardcore thrash with influences from bands such as early Napalm Death. With members from BOXED IN / SAWN OFF / KITO / HEALTH HAZARD / MINUTE MANIFESTO etc.
I cant find many details about the tour dates but here is a quick description. If you know more info about it please feel free to comment support bands etc.
Sat 15th Nov -The Arthouse 8pm
War All The Time
Pathetic Human
Rankwaste
Outta Control
Occult Blood
Sun 16th Nov - Barricade Books (62 St Georges Rd Northcote) 7pm
War All The Time
Straightjacket Nation
Nuclear Sex Addict
Lanesplitter
Tue 18th Novemeber - Scene Around Sound
Brookvale
Wed 19th November - Consolador De Dos Caras
La Campana
53-55 Liverpool St
War All The Time
Crux
Athol
Do Not Resuscitate
Thursday 20th November - The Cambridge
Hunter St
Newcastle
Saturday 22nd November - Broadway Hotel
Queensland
http://www.myspace.com/warallthetimeuk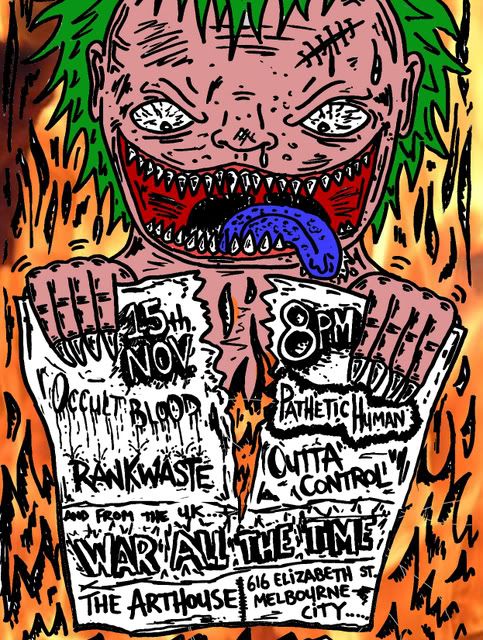 Conquest for Death have announced a tour of Australia during October with Cut Sick!
Conquest for Death is a fast thrashy old school hardcore outfit made up of members of What Happens Next?, Artimus Pyle, All You Can Eat, Love Songs, Charm (Japan), Pisschrist & Straightjacket Nation - so it's a little bit of a punk rock supergroup.
They're playing with The Kill, Dad They Broke Me, The Corruptors (members of Los Diablos, Space Bong and The Guantanamo Bay City Rollers), Straightjacket Nation, 4 Dead, Crux, Deathcage, Maus and Pathetic Human over the course of the tour. They've got a pretty crazy live show, so be sure to cut the sleeves off your old Sick of it All t-shirts, do some dumbell curls and practice your spin kicks before the gig rolls around.
http://www.myspace.com/conquestfordeathsf
All shows with Cut Sick except *
*Friday October 10 - The Arthouse, Melbourne
w. The Kill, Dad They Broke Me, Useless Children, Doubled Over
Saturday 11th October - Worldsend, Adelaide
w.Snake Run, Corrupters (members of Los Diablos, Spacebong & Guantanamo Bay City Rollers)
Sunday 12th October - Fitzroy Bowls Club, Melbourne ALL AGES 7pm start
w. Straightjacket Nation
Tuesday 14th October - Bar 32, Canberra
w. 4 Dead, Slowburn
Wednesday 15th October - Hamilton Station Hotel, Newcastle
w. Shitfight, White Male Dumbinance
Friday 17th October - The Jubilee, Brisbane
w. Insurgents, Dick Nasty & Hatefuck
Saturday 18th October - Maggotsville, Sydney
w. Crux, Deathcage & Maus
Sunday 19th October - Bar Open, Melbourne
w, Pathetic Human, Collapsed Toilet Vietnam & Pissbolt.
Such Is Life Festival - 2008. A nice lineup full of great bands and at 25 bucks! If L lived anywhere near Melbourne I would definitely hit this up. Some of the highlights include Insurgents, Straightjacket Nation and The Kill plus a million other awesome bands. A really good mix of bands, you got some grind bands, some hardcore bands and some more melodic hardcore sorta shit. Top notch, well done.
If anyone goes or is going can they please leave a comment and let me know how it goes? Perhaps email me some pics?
SICK!
25th - 27th April 2008, Anzac Day long-weekend
530 Clancys Rd Korumburra, VIC
2 hours Southeast of Melbourne
THE LINE UP
Scab (NZ)
Shortlived (NZ)
Tear Gas (Bris)
Sordid (Syd)
Insurgents(Bris)
The Pariah (Adel)
Walrora (Syd/Melb)
Dandelion Junk Queens (U.S.)
The Slaughterhouse Band (Tas)
Straightjacket Nation
Schifosi (last show)
The Kill
ABC Weapons
The Diamond Sea
Garbage Guts
Majorca
Super Fun Happy Slide
Pathetic Human
Elise and Jem
Useless Children
Gentlemans Riot
The Kleber Claux Memorial Singers
Collapsed Toilet Vietnam
Rank Waste
Tenderizer
Music on Friday & Saturday Night
DJs til late, and cheap vegan food available.
Markets & Distro Fair on Saturday!
Sunday will be old-timey style bands and country djs
More bands / Games / Stalls / FIlms / Workshops to be announced
FREE CAMPING
NO DOGS!!!!
Warning, Dogs may be shot!!!
Neighboring farmers may shoot yr dog if it strays into neighboring property & that'd suck arse!
There'll also be a kids space (see Lisa "isolation stains" in top 12 for details)
ANY DISTROs & MARKET STALLS etc WELCOME!!!
we're looking to have an brutal outdoor DIY Market day / Distro Fair on the Saturday so if you got any ideas, send us an email, and bring yr stuff along!!
just put your proposal in writing and send it to Roisin in the top 12
$25 + b/f for the full 3 days.
Tickets available at Greentix.com and Missing Link Record Store.
Tickets are limited to 250 so get in quick!!
copy and paste this URL into yr browser, you'll be directed straight to the S.I.L. greentix page so you can get a ticket before they're all sold out!!

http://www.greentix.com.au/evinfo.php?eventid=23235&sid=
Buses to Korumburra are running from Southern Cross Stn. on Friday 25th at 10am, 1 pm & 6:45pm costs are $5 conc or$10 full.
Group discounts apply if there are more than 12 people booking at a time. group travel discount office 9619 2338