Converge-esque punkpals Lo! are launching their brand new album tomorrow night at Hermann's Bar, Sydney Uni.
Supporting are Queensland post-metal pals The Matador, psychedelic drone merchants Adrift for Days and local trouble-makers At Dark.
This nice, diverse line-up should make for quite the pleasant evening. Entry is $10. Doors at 8pm. Come down!
Grindhead Records affiliates Ebolie and Beyond Terror Beyond Grace are supporting American death metal legends Obituary tomorrow night at the Manning Bar in Sydney Uni - so get down their early for some frenetic, face-melting grindcore before the mid-paced death metal legends take the stage to give you a bit of a breather!
Beyond Terror Beyond Grace play at 8:30PM.
Ebolie at 9:30PM.
Obituary at 10:30PM.
Tickets should still be available on the night for all you late-commers.
We're the cause of death.
Sydney based record label Soviet Records is putting on a 'showcase' of sorts this Friday the 22nd of September at Hermann's Bar in Sydney University.
Here are the reasons you should go:
Dining in Tuscany and Hospital the Musical are arguably two of the best bands in Sydney and Australia. They both play non-generic, complex, intricately structured extreme music; Dining in Tuscany sounding something like a combination of Converge, Isis, black metal and grindcore, while Hospital the Musical play intense hardcore in the vein of Botch, The Locust, Daughters and The Dillinger Escape Plan.
The venue has a fucking sick sound, and hearing those bands in that environment should be more than impressive.
Let's face it; you need to get out more and listen to some different music that doesnt just rehash bad Deicide b-sides.
See you there no doubt.
http://www.myspace.com/hospitalthemusical
http://www.myspace.com/diningintuscany
http://www.myspace.com/sovietrecords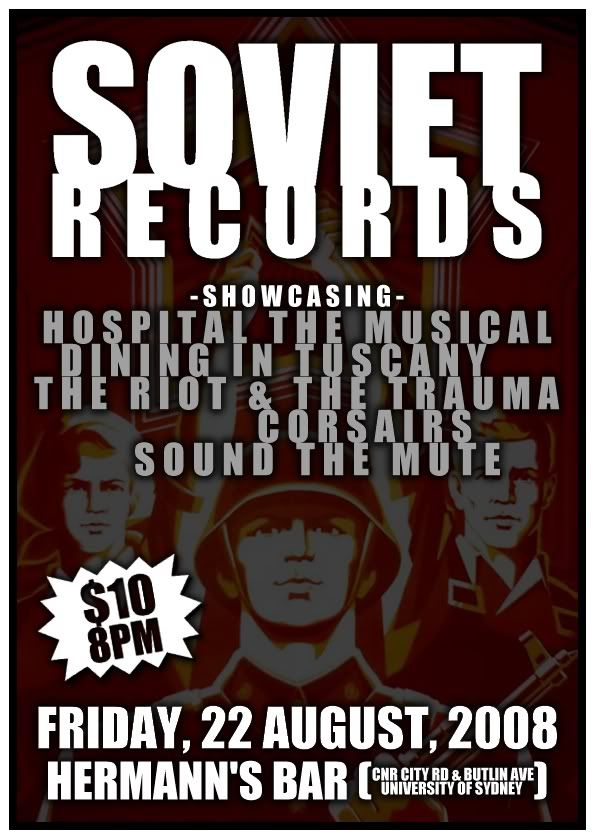 Just a word of advice: Slaughterfest II down in The Basement in Canberra sold out - so if you're coming tonight I'd try and get there before there's no more tickets left!
See you all there for this awesome mini-festival. Such a killer line up.
Seacrest out.
Blood Duster - 11:20 – 12:00am
Pod People - 10:15 – 11:00pm
Ebolie - 9:35 - 10:05pm
Backyard Mortuary - 8:55 - 9:25pm
Looking Glass - 8:15 - 8:45pm
Beyond Terror Beyond Grace - 7:35 - 8:05pm
Roadside Burial - 6:55 - 7:25pm
Clagg - 6:15 - 6:45pm
Infinitum - 5:35 - 6:05pm
Daemon Foetal Harvest - 4:55 - 5:25pm
LOG - 4:15 - 4:45pm
Granny Fist - 3:35 - 4:05pm
Summonus - 2:55 - 3:25pm
New Blood - 2:15 - 2:45pm
DJ 666