Tonight New Zealand technical death metal outfit Ulcerate tear up the Sandringham Hotel alongside two of Sydney's best extreme bands: Beyond Terror Beyond Grace and Dining in Tuscany.
Ulcerate: Brutal technical death metal a la Immolation and Gorguts
Beyond Terror Beyond Grace: Modern European grindcore a la Rotten Sound and Nasum
Dining in Tuscany: Epic post-hardcore black metal a la Buried Inside meets Wolves in the Throne Room
Entry is $10. If you're a self-respecting metal head you should probably be there. Never heard Ulcerate? Don't want to listen to me? Well check out their album review at Teufels Tomb and Diabolical Conquest (two of the very rare zines that I actually hold in high regard). Check it nice, fools.
Insect Warfare have long been hailed in the music underground as one of the best grind bands of the modern era - and rightly so. Their sheer intensity and aggression is supported by extremely proficient musicianship (in part thanks to their incredibly tight drummer), and a shocking penchant for awesome catchy breakdowns.
Their final opus is World Extermination - inarguably one of the best pieces of recorded grindcore. They toured Australia in 2008. I can still remember their incredible intensity that was their show at Maggotsville warehouse alongside Agents of Abhorrence (who may have overshadowed them). Quite simply, it was one of the greatest grind shows I have even experienced.
In any case, the webzine Diabolical Conquest has a very interesting new interview up with guitarist Beau Beasley of Insect Warfare. May I suggest that you click here to check it out. Beau talks about the usual - musical influences, the status of the band and so forth - but he also touches on where he thinks has the best grind scene. The answer? You guessed it! Australia!
Please note that Diabolical Conquest - along with Teufel's Tomb - is really the only webzine I openly support. The professionalism, insight and level of detail that accompanies each review is extremely indicative of their passion. I implore you to support them.
Insect Warfare Interview at Diabolical Conquest
http://www.diabolicalconquest.com/
http://www.myspace.com/insectwarfare
Insect Warfare at Maggotsville Warehouse (Australia)

Agents of Abhorrence at Maggotsville Warehouse (Australia)

Ahh now see, THIS is what I was after. After my very negative reaction to the latest Magrudergrind album I needed some kind of sign to prove to myself that I could still enjoy crustier grindcore - and Flagitious Idiosyncrasy In The Dilapidation has more than delivered.
With their new self-titled full length Flagitious Idiosyncrasy In The Dilapidation has restored my faith in grindcore that does not rely on ridiculous complexity or excessive production values to create a listenable album. By the same token, FID are not a band who are stuck in one rigid subset of grindcore, and free themselves to incorporate an plethora of influences - and I'm not talking about obscenely electic jazz influences like Cephalic Carnage either. It's all fucking fast, filthy, furious fucking grindcore all the way; punctuated with savage blast beats and fucking intense vocals.
The album opens with a catchy burst of punk-influenced-grind a la Captain Cleanoff. From there I can pick out European style modern grooving breakdowns (Smudged), a slightly old school Bolt Thrower death metal influence in a slower tempo, tremolo-picked groove (Studeny Klih), some shamelessly catchy punk rock segments, a slamming brutal death metal moment (In The Sluge), an old school doom introduction (Unvoiced), a brief cock-rock moment (Into the Gray Room), an old-school chunky Obituary riff (Dusted Ratina), some very obvious throwbacks to Napalm Death (Into the Sluge) as well as spates of crusty powerviolence.
The production is reasonably solid all things considered; the guitar tone is slightly crusty but with enough clarity so that you can clearly make out each riff, and distorted enough to very happily fill out the sound with a slightly dirty bass chugging underneath. The vocals are a mix of slightly guttural bellows, distorted high pitched wails and almost black metal howls - a fairly dynamic mix for a grind band. What is even more impressive, is that all these tortuous sounds are the result of one tiny Japanese girls voicebox. Holy fucking shit.
This fucking great stuff, and very well worth fans of Insect Warfare, Phobia and the like to check out. If you need a second opinion, I will refer you to the original review of this album that successfully piqued my interest over at Teufel's Tomb (a review site I would definitely recommend you check out).
http://www.myspace.com/fidgrind
I have always been impressed with the work that the Diabolical Conquest does. In a world saturated by so many poorly written, poorly managed 2-bit metal webzines, Diabolical Conquest sets the benchmark. I honestly do not believe I have read a more consistent, detailed or critical zine on the internet (perhaps with the exception of Teufels Tomb).
They have been a great support to Grindhead Records over the years and we truly appreciate their time, passion and hard work. The extreme metal scene would not exist if not for such people.
Therefore we are very proud to host a 10 CD Giveaway with Diabolical Conquest. To enter is pretty fucking easy; just check out this thread on the Diablical Conquest forum for details. If you win, you'll get to select a Grindhead release of your choice.
Love, doom and grind.
Welcome to another one of my very rare anticipated grind releases.
Gigantic Brain's debut album The Invasion Discography actually represented my first encounter with the cyber-grind genre back in 2004. I would've been around 17 at the time, and having just discovered some of the more whacky and extreme bands of metal I absolutely loved it. However, for whatever silly reason I never actually purchased the album (despite working for Grindhead Records who actually had it in stock). I have always kicked myself over not picking up that twisted album - however rumour has it that a re-release (from Mainstay Recordings, Deepsend Records or Razorback Records... I forget which) might be in the works.
It has been five long years since we last heard anything from Gigantic Brain. If you listen to music as twisted, bizarre and experimental as Gigantic Brain - or have ever played in a similar project - you might realise that five years is a very long time in music. Music preferences can (and should) shift dramatically over five years, as should the mindset of the creator. I've never understood how in the hell can one band rehash the same album over the course of a long career (Slayer?). Honestly that just sounds like hell to me.
Now returning from the unspeakable horror that is Horhua-Lmory Undecimus XI, Gigantic Brain has summoned forth World; 18 tracks of ambient cyber-grind. Actually even the phrase 'ambient cyber-grind' is quite misleading as this is a fairly significant departure from Gigantic Brain's previous sound. Instead of a relentless overload of mind-fucking FX-drenched hyper-grind, World's focus instead seems to be on dramatic, eerie ambient passages that seem at least in small part a nod to Devin Townsend's ambient work. It's also no coincidence that Explosions In The Sky are listed as one of the few influences on the Gigantic Brain MySpace page.
The fair majority of this album actually consists of sparse synth soundscapes and atmospheric keyboard pieces interspersed with the occasional burst of break-neck otherwordly violence. And I like it. I really fucking like it. The ambient passages are pulled off brilliantly; no song song sounds out of place, drawn out or pointless - a trap which a lot of ambient music falls into.
In Teufel's review over at Teufel's Tomb he said that World is the 'the perfect album to use as a soundtrack for an alien invasion flick' and he couldn't be more right. Each song builds some element of drama or tension and evokes a wide range of emotions; some sound foreboding, tense and dripping with fear, while other songs are filled with calm hope and relief. The whole album fits together perfectly. When there are bursts of hyper-violence, they are both brief and crushingly intense with maximum impact.
This is a large departure from Gigantic Brain's Invasion Discography, and I'm sure a lot of close-minded metal heads will be disappointed with World - however I'm quite glad that I didn't sit through 5 listens of a disposable cyber-grind album this morning. I fucking hate Agoraphobic Nosebleed. Be sure to check this release out if you're not a bland metal caricature with a penchant for (and only for) generic extreme metal.
Look out for the release of World on Mainstay Recordings - their website is currently down for a redesign. News has it the man behind Gigantic Brain, John Brown is already working on new Gigantic Brain material, as well as a grind collaboration project with guitarist Rene Perez of Flash Parade entitled Time Waits For No Man. I'm looking forward to both projects.
Obey the brain - and be sure to check out Teufel's review of World. My money has it he wasn't quite as hungover as I was while writing his review.
http://www.myspace.com/giganticbrain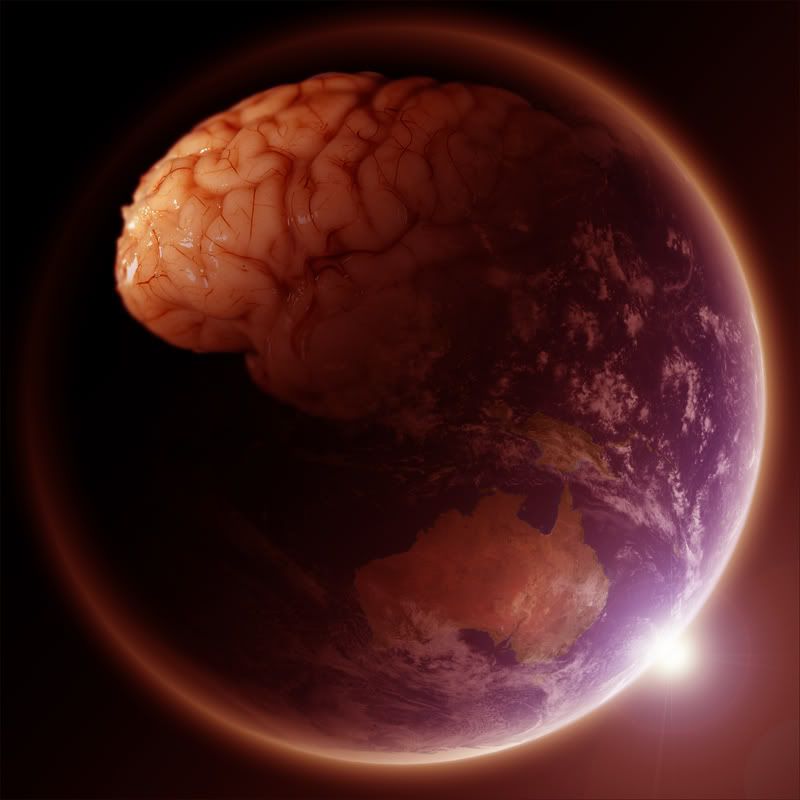 Those fine chaps over at Teufels Tomb have posted video footage of two new Napalm Death songs "Diktat" (Dick Tattoo?) and "On The Brink Of Extinction" from their upcoming Time Waits For No Slave full length at something called Damnation Festival at Leeds University.
Check her out:
Those tracks sound reasonably promising. Here's hoping they can follow up on their last two albums. I'd also just like to point out that Danny Herrera is a profoundly disappointing drummer to watch/hear live.
And as an added pimp out, be sure to check out Teufels Tomb. As far as intelligent and honest metal reviews go, I haven't found a site in the last 5 years that can beat it.