Posted by Lachlan
Welkin Entertainment Presents
THE EUPHONY FUSION 2
An Australian Metal Compilation
In an effort to help further promote the many great metal bands we have across Australia, we at Welkin Entertainment have put together another promotional metal compilation featuring a selection of 16 fantastic bands, of a wide variety of metal genres, from across the country. 1000 copies of this compilation will be handed out for free at the conclusion of each show on MESHUGGAH's Australian tour, October 12-16.
Meshuggah Australian tour dates:
- Sun 12th Oct@ Arena, Brisbane
- Mon 13th Oct@ Roundhouse, Sydney
- Tue 14th Oct@ HQ, Adelaide
- Wed 15th Oct@ Palace Theatre (formerly Metro), Melbourne
- Thu 16th Oct@ Capitol, Perth
* The CD's will be handed out for free at the END of each show, out the front of the venue.
* This compilation CD will NOT be available in stores. The only opportunity to acquire this CD is after the above gigs. 1000 copies will be distributed between the above 5 gigs, so make sure you get in quick as once they're gone that's it.
* This CD is FREE!
'THE EUPHONY FUSION 2' track list:
1. SEPARATIST (TAS) – THE HARVEST
www.separatistonline.com
2. HOUSE OF THUMBS (VIC) - TOURIAN
www.myspace.com/houseofthumbs
3. FRANKENBOK (VIC) - THE LAST DITCH REDEMPTION
www.myspace.com/frankenbok
4. PEOPLE DIE (QLD) – 5 BUCKS OF CARNAGE
www.myspace.com/peopledie666
5. GUILD OF DESTRUCTION (VIC) – DEATH OF MAN
www.myspace.com/guildofdestruction
6. TIDAL (SA) – STRONGHOLD
www.myspace.com/tidallive
7. DRED (NSW) – ABSENT FROM ENTITY
www.dred.com.au
8. SPASTICATOR (VIC) – MAN WHO FALLS FROM SKY
www.myspace.com/spasticator
9. A RED DAWN (SA) – THE HARBINGER
www.myspace.com/areddawn
10. AYERA (VIC) – BLACK MESSIAH
www.myspace.com/ayerametal
11. LEICOHTICA (NSW) – A PROTOTYPE SOUL
www.myspace.com/leicohtica
12. SWORD TOWARD SELF (NSW) – SWORD TOWARD SELF
www.swordtowardself.com
13. CLAIM THE THRONE (WA) – TRIUMPHANT MARCH OF THE DRACONIC LEGION
www.myspace.com/claimthethrone
14. DOGS OF WAR (WA) – THE LIONS
www.myspace.com/dogsofwarband
15. THE VEIL (NSW) – DEATHCULT
www.myspace.com/theveilau
16. SLOWLIGHT (WA) – DREARY DAYS
www.myspace.com/slowlightofficial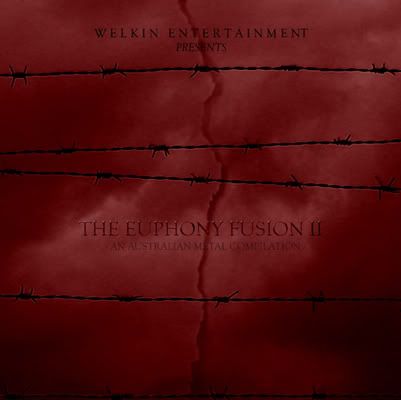 Tagged as: A Red Dawn, Australian, Ayera, Claim The Throne, Dogs of War, Dred, Frankenbok, Guild of Destruction, House of Thumbs, Leicohtica, Meshuggah, metal compilation, People Die, Separatist, Slowlight, Spasticator, Sword Toward Self, The Euphony Fusion, The Veil, Tidal, WElkin Entertainment
No Comments
eMailing List
Tags
Recent Posts