1 man noise artist Rank Sinatra has his brand new release up for free download through Grindcore Karaoke. A member of the greater Dual Plover family much like The Rev. Kris Hades, although this one man blackened noise artist covers popular music (Christina Aguilera, The Human League, INXS) for your enjoyment. So if you like mashing lo-fi black metal with popular music and midi drum loops then this may be right up your alley. This release features artwork by the mighty Glenno and some assisted production by Toecutter.
This is a pretty cool little concept. Apparently thursday nights at that Spanish Club La Campana is going to be Playmaker: a "highly exciting and playful party inspired by 80s retro games".
There's gonna be Atari, Sega, Nintendo, Commodore 64 and Amiga consoles to battle on as well as live DJs including sets from Toydeath, Toecutter, Sickboy and more.
Check it out, sounds pretty fucking cool! Where else can you fucking play Altered Beast, enjoy a few bourbons, have a Spanish feast and listen to obscene breakcore all at the same time?
http://www.facebook.com/event.php?eid=45423098459
http://playmakersplayground.blogspot.com/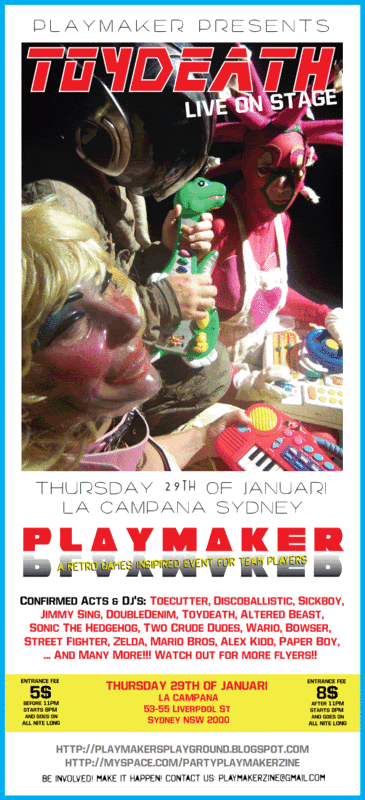 The new issue of Unbelievably Bad is out!!!
This issue mark #7 of these amazingly crafted mags. So much time and effort has gone into the UB series, it makes some of the mainstream mags look like a pile of shit. Get this - the reviews are ACTUAL FUCKING REVIEWS instead of label fellatio pieces! Crazy huh? Pick yours up - you wont regret it - they never disappoint.
This issues comes with a 21 track compilation featuring the likes of Hellmenn, Straight Arrows, 4Dead (awesome!), Violent Abuse (killer), Kamikaze Trio, Bambi & The Bambis, Baseball, R.U.S.T, Mink Jaguar, Vae Victus (solid), Toecutter (I love breakcore), The Veebees, Frank Rizzo (siiiick cunts), Hotel Wrecking City Traders, Kleber Claux Memorial Singers, Burning Sensation, Dead Farmers, Kill A Celebrity (aww yeah), Slag Dog Afterbirth, Fattura Della Morte (sluuuuuudge!) and Doomed & Disgusting.
It's also got interviews with Lubricated Goat, Eyehategod, The Black Lips, 4Dead, High On Fire, Rose Tattoo, Darkthrone, Coliseum, Pelican and M.O.D, some killer artwork by Glenn "Glenno" Smith, Rick Chesshire, Ross Tesoriero, Stu Spasm and Dr. Seuss, and photography by Rod Hunt, Richard Sharman, Forcefed, Ben Butcher and more.
You can grab a copy from: Paint It Black (Newtown NSW), Resist (Newtown NSW), Redeye (Sydney NSW), Utopia (Sydney NSW), Faster Pussycat (Newtown NSW), Mojo (Sydney NSW), Snapshot Distro (Sydney NSW), Re-Pressed (Penrith NSW), Music Farmers (Wollongong NSW), In Deep (The Entrance NSW), Landspeed (Canberra ACT), Missing Link (Melbourne VIC), Polyester Books (Fitzroy VIC), International Trash (Richmond VIC), Sticky (Melbourne VIC), Off The Hip (Melbourne VIC), We Empty Rooms (Melbourne VIC), Metropolis (Melbourne VIC), Fist2Face (Ringwood VIC), Rockinghorse (Brisbane QLD), Big Star (Adelaide SA), 78 (Perth WA), Tasmanian Alcoholic Distro (Kingston, TAS), Tommy Gun (Hobart, TAS) - or from that delightful Danger chap whom you can email at unbelievablybad (at fuck you spammers) optusnet.com.au.
http://www.myspace.com/unbelievablybad
Crash and burn, crash and burn.